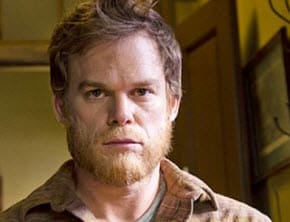 Surprising no one, the Dexter finale was a huge disappointment to fans who had mostly already been disappointed by the last three seasons. But the end was really, really bad, and now those behind it are feeling the need to defend themselves a bit. (spoilers ahead).
Dexter producer John Goldwyn was asked about the ending at the recent premiere of The Secret Life of Walter Mitty. Here's what he had to say:
"How about that finale? They won't let us kill him. Showtime was very clear about that. When we told them the arc for the last season, they just said, 'Just to be clear, he's going to live.' There were a lot of endings discussed because it was a very interesting problem to solve, to bring it to a close. People have a relationship with Dexter, even if it doesn't have the size and the ferocity of the fan base for Breaking Bad. But it has a very core loyal following.
Wow, that's about the worst example of allowing your showrunners creative freedom I've ever seen what if on Breaking Bad (more spoilers) AMC told Vince Gilligan he wasn't allowed to kill Walter White? Gilligan probably would have had some choice words for them, but if he was forced to comply, we would have had a much worse finale that wasn't at all what was intended.
Obviously Dexter had deeper problems than whether or not he lived or died at the end, but I'd rather have him killed by Hurricane Laura than become a stoic lumberjack. Wouldn't you?