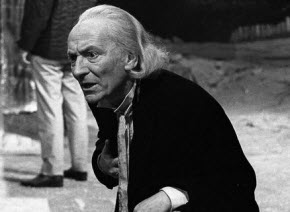 Big news for Doctor Who fans and fans of classic TV in general. Though many know the show for it's recent reboot over the last decade, Doctor Who has been a staple of British television for eons. Unfortunately, back in the '60s and '70s, the BBC destroyed a lot of their own footage, including the first batch of episodes from the show featuring the first two Doctors, William Hartnell and Patrick Troughton. In total, 106 episodes of the show have gone missing.
Until now.
There have been rumors that a treasure trove of these lost Doctor Who episodes have been found in Africa, and are going to be digitally restored and released much to fan's delight. The BBC has yet to confirm or comment on this information, but they are expected to hold a press conference this week about the topic where hopefully they'll do just that. It's already the 50th anniversary of Doctor Who this year, so this just makes that celebration all the more memorable.
Obviously the show has changed a lot over the years, but it will be fascinating to go back and see these practically ancient episodes, and it's a miracle they were found intact. A good find for Doctor Who fans and lovers of old television.