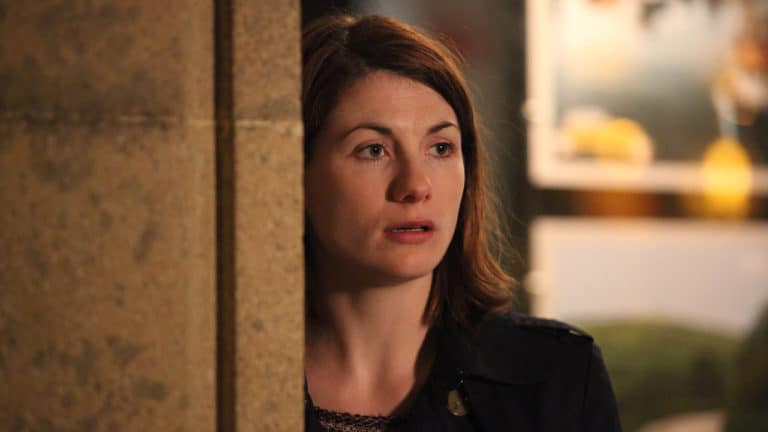 When Peter Capaldi announced that the recently-ended tenth season of Doctor Who would be his last, everyone started wondering who would get the honor of playing the 13th Doctor. After months of speculation, wish lists, rumors, and all-around anxiety, the official word is finally out! Earlier today, following the men's final at Wimbledon, the BBC finally revealed that Jodie Whittaker would be taking on the role of 13th Doctor.
It's about time (and relative dimension in space): Doctor Who will finally get to "be in touch with her feminine side," as sixth Doctor Colin Baker tweeted.
Well I never the BBC really did do the right thing and let the Doctor be in touch with her feminine side. As a father of daughters – result!

— Colin Baker (@SawbonesHex) July 16, 2017
New showrunner, new attitude.
With Steven Moffat on the way out, new showrunner Chris Chibnall could have stuck with tried-and-true. But instead of following in the footsteps of a man who repeatedly offered terrible excuses for not casting a woman, Chibnall had something else in mind
I always knew I wanted the Thirteenth Doctor to be a woman and we're thrilled to have secured our number one choice. Her audition for The Doctor simply blew us all away.  Jodie is an in-demand, funny, inspiring, super-smart force of nature and will bring loads of wit, strength and warmth to the role. The Thirteenth Doctor is on her way. (credit: BBC/BBC America press release)
This decision to go against a stale tradition and step out of the usual, male casting box is hopefully a sign of more exciting developments to come. The only thing that might make the this whole female 13th Doctor announcement even better is finding out that Bill Potts' story will go beyond season 10's undesirable end.
At the same time, Chibnall's choice for 13th Doctor doesn't go against the grain as much as some might think. Just ask Alex Kingston.
In her panel at Raleigh Supercon, which coincidentally happened to be this morning at 11:00 EST — just minutes before the announcement hit the internet — Kingston reminded attendees that there's no such thing as throwaway dialogue on Doctor Who. So, when River Song once told Peter Capaldi's 12th Doctor that he reminded her of her second wife, that threw the door leading to a female Doctor wide open.
While many viewers might not have seen this as a hint at the 13th Doctor's gender — and it wasn't necessarily one at the time —  it's an intriguing one to revisit following Whittaker's casting.
It's also interesting how, sitting in the Raleigh convention center, I figured Kingston was just going for wishful thinking when she said we might learn which woman River would kiss next — not which man, as the moderator had suggested. At best, I thought she was going for a tease and/or shutting down a line of thinking that only focused on where her character's lips might wind up next. (Because who River Song kisses is totally the focus here, right?) And then, less than an hour later, it turned out Whovians would get to meet at least one of River's wives after all.
Later, during the same panel, fans shared the news of the 13th Doctor's identity with Kingston. Her reaction? Well, let's just say she's ready for it.
(Special thanks to the Youtube user who uploaded this already. What a wild ride this morning!)
As happens any time women are finally given representation in traditionally male roles, the 13th Doctor's identity has been polarizing.
Some fans, most of whom are men, are outraged. They're even going so far as to say they won't be watching anymore. Imagine having privilege so fragile that you can accept an alien man, flying through time and space in a police public call box…but you think that putting a woman in the same role is just a step too far.
None of these people are capable of coming up with a coherent excuse for their distaste. (Sounds like Moffat, to be honest.) The most laughable explanation has definitely been the "continuity" argument. See also: Missy, "my second wife," and — oh, yeah — every single time Doctor Who has rewritten its own mythology for convenience's sake.
Only twelve regenerations, right? So, including the War Doctor…Oops.
But the reaction was, thankfully, not all negative. Some of us have been waiting for this for ages.
Those in support of Jodie Whittaker as the 13th Doctor have delivered a great mixture of praise, heartfelt admissions of crying through rewatches of the video announcement (guilty), incoherent excitement, and witticisms aimed at those sexist individuals raging against the first female Doctor.
I made a thing. #DoctorWho13 #dailymail #DoctorWho #bbc #doctor13 #DrWho13 #DrWho #13thDoctor #13thDoctorWho #jodiewhittaker #calmdown pic.twitter.com/4383hYKKtB

— Sarah HardingRoberts (@SHardingRoberts) July 16, 2017
WE HAVE TAKEN YOUR GHOSTBUSTERS AND STAR WARS AND SUPERHEROES AND DOCTOR WHO NOTHING IS SACRED WE WILL DEFILE IT ALL WITH OUR WOMANLY HANDS

— gracelyn (@andlivefromny) July 16, 2017
Responses have come from some pretty big names — not just your average Whovians, sitting at home and/or attending comic cons.
There was Pearl Mackie's tweet, almost as soon as the 13th Doctor news was out:
https://twitter.com/Pearlie_mack/status/886609685213851650
Comedian, writer, and actor Lane Moore's all-too-real smackdown on confused nerd boys:
nerd boys: i hate that there's a female Doctor Who!!! if a woman is in it i'm OUT!
also nerd boys: women won't date me because i'm too nice

— Lane Moore (@hellolanemoore) July 16, 2017
Variety critic Mo Ryan's response to the haters:
"Actually it's a terrible thing if a woman is the Doctor on #DoctorWho, here are my 786 crap reasons." St. Scully, please take this one. pic.twitter.com/g6JMmfED8p

— Mo Ryan (@moryan) July 16, 2017
…and that's just a tiny sampling.
Even my personal choice for 13th Doctor, Gillian Anderson, had something to say.
Yes! #breakthemold #13thDoctor https://t.co/Gd3542OaDl

— Gillian Anderson (@GillianA) July 16, 2017
(P.S. Not to throw Jodie Whittaker out of the TARDIS before she even gets a chance to settle in, but if I'm officially going to go ahead and throw Anderson's name in for consideration for Fourteen right this second.)
The bottom line here is, no matter how it gets stated, representation matters.
And there's no reason why women can't hope to be heroes who travel through all of time and space, saving pathetic humans from their own foolish mistakes. The second someone says they can accept this entire, convoluted alien mythology but can't accept a woman being at the heart of that unless she's just a "companion" or a spouse? It's time to check out of the conversation. If you're worried about little boys who dress up as the Doctor suddenly feeling excluded, you've got decades of Doctor Who that you can show them.
Bonus: The little girls and grown women who've also cosplayed as the Doctor all this time will now have a specific Doctor to embody. Or, you know, they can keep playing with gender and put on their best Ten trench coat and Converse as always. Either way.
And our 13th Doctor, Jodie Whittaker, totally gets it. In the same BBC America press release referenced above, Whittaker's response to being cast as the first woman Doctor was as follows:
It feels completely overwhelming, as a feminist, as a woman, as an actor, as a human, as someone who wants to continually push themselves and challenge themselves, and not be boxed in by what you're told you can and can't be. It feels incredible.
I, for one, can't wait to see what Jodie Whittaker has in store for us as the 13th Doctor.
That Doctor Who Christmas special can't come soon enough. While it will be sad to see Peter Capaldi go, welcoming the 13th Doctor is, for quite a lot of us, going to be a special gift this holiday season.