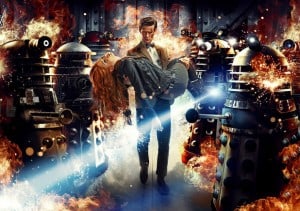 Man, this is always a tough time for me. Generally, no matter WHO (snicker) they announce as the new Doctor Who, I tend to not like them for a few weeks. They always have to win me over. And Doctor after Doctor, they somehow always do. Not only that, but by the time they leave, I am ready to toss myself on the coals to save them. Then a new one comes, and I hate him for a bit, and then I adore him, and then he leaves me again. It is an unending, and oddly enjoyable, cycle, and it seems that wheel is set to turn again this Sunday, when they officially announce who the new Doctor will be.
Though there are rumors and threads dedicated to figuring out who it is ahead of time, we will not speculate. And honestly, even if we did, we would be wrong. I am pretty sure there was a year we predicted that the new Doctor would be Pierce Brosnan, so that should let you know how accurate we are with predictions. I, personally would LOVE to see Jemaine Clement take the role, but the likelihood of that hovers around negative 44% last time I checked.
So WHO will be the doctor?
Yes. No, wait, what are you asking?
Who is the doctor?
Yes, exactly.
No, I am literally asking, WHO is the doctor??
Yes, Who IS the doctor!
No, I am asking you who will be playing WHO???
Do you mean "whom will be playing WHO?"
Well, we won't officially know until Sunday.
And you know as soon as we know WHO, you will know WHO. Sorry, couldn't resist a little Whose on First humor.