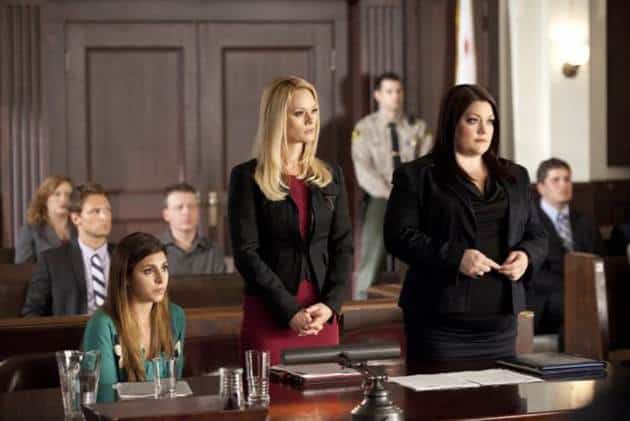 Lifetime has announced a premiere date for season four of Drop Dead Diva. Beginning on Sunday, June 3rd at 9:00, the 13 episode season thrusts us back into the world of Jane Bingum and company, as each and every character is facing some type of professional or personal dilemma. The Fred/Stacy/Grayson situation gets even more complicated, thanks to the events of the third season finale, while Kim can't seem to keep control of the firm while Jane's away in Italy.
But since this is Drop Dead Diva, you have to wonder about who the guest stars are going to be. The show has never been shy about bringing recognizable faces into its world and the upcoming season looks to be no different. The likes of Megyn Price (Rules of Engagement), Kelly Rutherford (Gossip Girl), Patty Duke (Valley of the Dolls), John Ratzenberger (Cheers), and tennis player Serena Williams are set to make appearances, with Brandy Norwood (Moesha) and Valerie Harper (Rhoda) returning in their roles from last season. Reality star and tabloid fixture Kim Kardashian is also set for a multiple episode arc, playing a relationship expert that Stacy goes to for advice about Fred. The problem is Kardashian's character will be a love interest for Fred, so she may not have the best intentions on this particular issue.
Coincidentally, Kardashian is set to appear in Tyler Perry's The Marriage Counselor, though her role will be that of a friend to the main character, played by Jurnee Smollett. The movie is due in March of 2013.
Last season, Drop Dead Diva aired alongside cop drama Against the Wall, which failed to earn a second season. There's no word yet on what, if anything, the show will be paired with this summer.
Are you excited for new episodes of Drop Dead Diva? How do you feel about Kim Kardashian getting a role on the show? Should Grayson go after Jane?