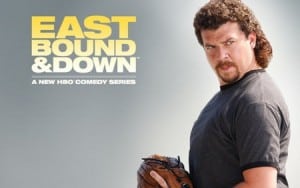 Eastbound and Down is an amazing show. About baseball player Kenny Powers, and his struggles with life, love, and his work. It is the kind of show that that most would have assumed would have never taken off, yet, it did, and has amassed a massive following of faithful fans who don't want to see the show vanish. Thing is, we may be approaching the final season, but the good news is HBO has dropped a new trailer for the final season of Eastbound and Down, and it is just enough to whet some appetites.
First thing you will notice when you watch this trailer is that, well, here you go.
I would say the blonde curly wig does a lot for Kenny
As you can see, this season begins with a bang (I am still alive) and looks to only get even crazier from there. But this also makes us a bit sad. Breaking Bad, Dexter, and now Eastbound and Down. Why do so many amazing shows feel the need to end, all around the same time? I mean, do they have replacements ready? Have they factored in mass withdrawal? What happens when everything we love vanishes at once?
Sorry, lost myself for a minute there.
That out of the way, this finale season of Eastbound and Down looks to be stellar, and just what awaits Kenny Powers and his cohorts, you can safely bet, will be epic and quite unlike anything you have ever seen on TV.