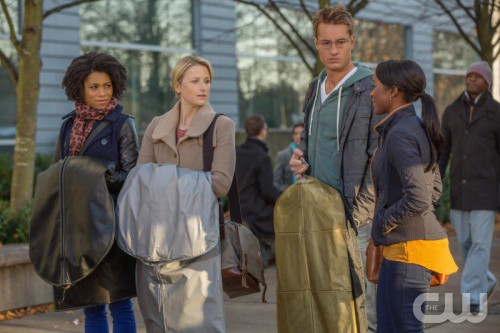 The dynamic between Will, Cassandra, and Emily has only gotten more tangled on Emily Owens M.D.  The show began with Emily and Will as being good friends who met in medical school and Cassandra the familiar face that popped up out of nowhere. Now, though, Cassandra and Will are exclusive and Emily alters between feeling left out of her friend's life and examining every move he makes for some indication that he likes her as more than a friend. What happens when professional jealousies get thrown into the mix? Will Emily be so sure that Will likes her when they're going head-to-head?
On the next Emily Owens M.D., the three will be competing against one another for a promotion to Dr. Bandari's research assistant. Rather than undergoing a series of interviews, examinations, or simulations, they'll have to go through potentially the most uncomfortable moment of their lives; Bandari will have Will, Emily, and Cassandra examine one another's weaknesses while standing beside each other. By the looks of the preview (below), Cassandra and Will waste no time in hacking away at Emily's emotional investment with her patients and her lack of confidence, while Emily doesn't seem to want to fire back.
Obviously, part of her reticence comes from the notion that Will likes her and to mention bad things about him might scare him off now that he's close to admitting it to her, but that she didn't immediately rip into Cassandra is perhaps symptomatic Emily's true weakness: her unwillingness to appear mean. To a fault, Emily cares what people think about her and if she doesn't put that aside in a fit of self-preservation, there might not be as much forward momentum in her career as she wants.
Elsewhere on Emily Owens M.D., Emily has a patient with a bullet in his lung but no gunshot wound, while she has a major revelation about her personal life while treating a daredevil.
Emily Owens M.D. airs Tuesdays at 9:00 on The CW. You can check out teasers for the upcoming series finale here.
Who do you think will get the research assistant: Cassandra, Will, or Emily? Will the competition between the three change their dynamic going forward? Is the entire competition one big mind game from Dr. Bandari?
http://www.youtube.com/watch?v=emrYJeChPLo
http://www.youtube.com/watch?v=3Jed_rLYUFQ