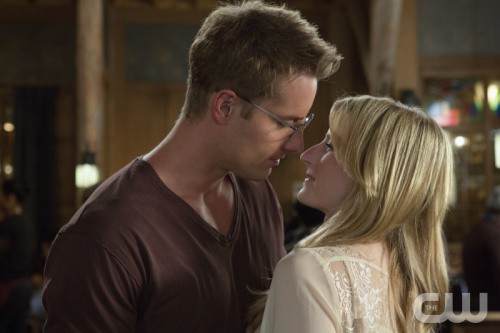 Emily has a great bedside manner and an ability to relate to even the most troublesome of patients. Throughout Emily Owens M.D., she's been able to make up for poor sociability among her fellow doctors with her performance in the OR and in the patients' rooms, a remarkably calm presence for someone who can't be around Dr. Bandari without panicking or letting her nerves get the better of her. The next episode of Emily Owens M.D. finds Emily trying to use science to find the answer to a question she's wondered about for years – does Will actually like her?
Considering how she's not nearly as intelligent and composed about her personal life as she is her time with patients, this is as good a time as any to try to change-up her game plan. If she can find a way to prove that Will was jealous of her recent date, that'll mean that there's something there and he has feelings for her beyond friendship, which he's continually denied despite the presence of a telling voicemail. Part of the reason that Emily's been uncomfortable at work is having to be around Will and the unspoken tension between them, so figuring out how he feels could be a way for that tension to lesson and make the hospital a better place for her to be.
And who knows – she might even get a boyfriend in the process.
Elsewhere on Emily Owens M.D., Dr. A.J. Aquino has returned to Denver Memorial after a year-long absence and the staff wants him to make up with Dr. Bandari immediately, while Emily treats a psychic and Cassandra's lung transplant patient has to make a difficult decision.
Emily Owens M.D. airs Tuesdays at 9:00 on The CW.
Does Will have feelings for Emily? Should she give up and focus on Micah (or being single)? How will the introduction of A.J. impact life at Denver Memorial?
http://www.youtube.com/watch?v=Si2ssNX1l9M
http://www.youtube.com/watch?v=YdrOVLtdwgg