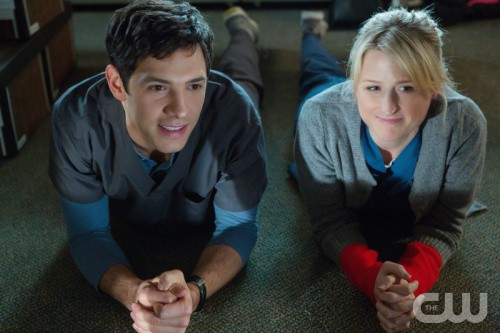 Emily now has a choice that she wouldn't have thought possible at the beginning of Emily Owens M.D. After remaining single for much of her life and never figuring out how to talk to guys on a romantic level, she has Micah and Will both ready to be in a relationship with her. It'll be quite overwhelming for someone who has never been put in this type of position before, but which guy will she ultimately choose? Which should she?
Listed below are the dates, episode titles, and episode descriptions for the final two episodes of Emily Owens M.D.
Tuesday, January 29th – "Emily and…the Perfect Storm"
When the hospital is inundated with bus crash victims during a winter storm, Emily (Mamie Gummer) is assigned to run triage in the E.R. During the chaos, Emily is forced to do an emergency skull procedure on a heroic Marine who suddenly collapses. Tyra (Kelly McCreary) bristles at her father's lack of respect for her as a doctor, but they later experiences a breakthrough when they perform an emergency c-section together. Meanwhile, Will (Justin Hartley) and Emily secretly work to help an unexpected patient leaving Cassandra (Aja Naomi King) to question Will's true feelings for Emily. Micah (Michael Rady) finally makes a bold decision in his personal life.
Tuesday, February 5th – "Emily and…the Leap"
Emily's decision about starting a relationship with Micah becomes even more complicated when Will hears about it and begins to feel jealous. Emily and Tyra treat an unruly woman, but after learning of her home hoarding situation, Emily wonders if the woman's personality changes may be caused by her many cats. Now that Cassandra and Will have broken up, Cassandra's strictly professional behavior distracts Will and causes him to misdiagnose their patient. Meanwhile, Micah's sister comes to town after finding out the truth about their mother.
Emily Owens M.D. airs Tuesdays at 9:00 on The CW.
What type of bold move will Micah make with regards to his personal life? Who will Emily choose to be with: Micah or Will? Are Will's feelings for Emily genuine?