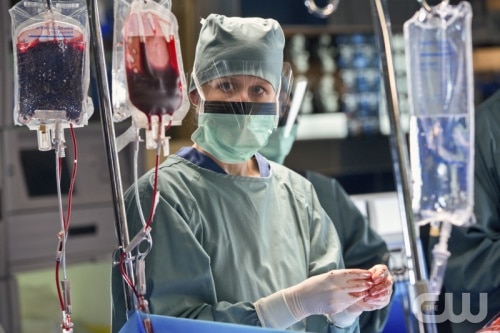 For the entirety of Emily Owens M.D. (and for years before the show began), Emily has been hung up on Will, but once she let her secret out, things got different. Not bad different, just…different different. Before she awkwardly told him that she had feelings for him, Emily could count on Will for anything and experience the type of intimacy that friends for many years tend to have; now, though, there's an underlying tension between the two that needs to be exorcised if they can ever truly move on and continue their friendship.
On the next episode of Emily Owens M.D., Emily gets pushed into getting dressed up and going out to a bar in a bid to get her mind off of Will and potentially meet another guy. While it beats sitting in the corner and pining away for a guy who'll only admit to being kind of interested in you while intoxicated, Emily will undoubtedly feel guilt for hooking up with someone and, heaven forbid, tell Will what happened. Dr. Bandari gave her an important piece of advice recently in telling her to toughen up and while that may not be the most natural thing for timid people pleaser Emily, it might actually be the best thing for her to do.
Elsewhere on Emily Owens M.D., Will has to deal with painful memories upon the arrival of a domestic violence victim to the ER, while Emily's cancer patient is refusing reconstructive surgery for cosmetic reasons.
Emily Owens M.D. returns from hiatus Tuesday, January 1st at 9:00 on The CW. The show has already been cancelled by the network and once the initial 13-episode order runs out in February, it will be replaced by Cult.
Do you think that going out to meet guys is the best way for Emily to get over Will? Will he get even remotely jealous of her suddenly active social life? How far will the rivalry between Cassandra and Emily for Will's affections go?
http://www.youtube.com/watch?v=_MGXrsrX_fA
http://www.youtube.com/watch?v=CaG3kWNCjDE
http://www.youtube.com/watch?v=3jje5QFSbPc