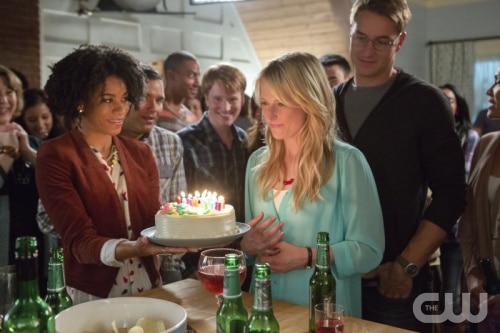 Emily and Will have already been through some awkward times together in their short run at Denver Memorial. Coming into their internships, the two were on fairly good terms having made it through medical school together, but in the first six episodes of Emily Owens M.D., that friendship has become much more strained. Thanks to Emily blurting out her feelings for him and making him not date Cassandra before going back on her word, they're at a delicate place in their relationship that being in a highly stressful work environment can only exacerbate.
Tonight on Emily Owens M.D., the two have to put their personal differences and whatever tension is between them aside once a patient comes in that they're both assigned to. The patient happens to be a serial rapist who nearly killed one of his victims through asphyxiation with a plastic bag, which puts Emily and Will in a tough moral spot. If they refuse to treat him, they could get themselves into trouble and his death would be their fault, but if they do treat him, he might go back to committing crimes and hurt another woman. Emily has made morality/"goodness" a part of her bedside manner at the hospital, having already tried to talk an addict into going to rehab, so I don't know if she has the capacity to leave her judgment at the door and do her job in a situation like this.
Elsewhere on Emily Owens M.D., the hospital flower delivery man collapses but refuses to let Emily diagnose his ailment, while Dr. Dupre tries to find a way to get through to Tyra regarding the affair and her coming out.
The fall finale of Emily Owens M.D. airs tonight at 9:00 on The CW. You can check out a recap of the most recent episode here.
Will you be watching the final seven episodes of Emily Owens M.D., despite its cancellation? Do you think that Dr. Dupre will be able to make things up to Tyra regarding the affair? Would Emily and Will be in the right to not treat the rapist that came into the hospital?
http://www.youtube.com/watch?v=ykMZ_d9HTcU