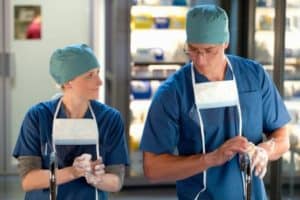 As much as Micah has tried to remain positive with his mother regarding her pancreatic cancer, he knows the truth – not a lot of people beat the disease or even last longer than a few years. There's a very good chance that his mother will join the countless others that didn't come out on the other side of chemotherapy and you have to wonder how that'll impact his performance on the job. On the next episode of Emily Owens M.D., he'll have to figure out whether he can keep his professional and personal lives separate while on a shift at the hospital.
As expected, it's hard to take out the personal investment and Micah yells at Emily for making a pivotal mistake in treating his mother. Of course, he already knew that she wasn't responding to the medication and that the tumor hadn't shrunk, so a part of his rant is based off of the fear of losing his mother; you can only put on a brave face for so long and Micah needed to get some of that anger and frustration out in order to continue functioning. It could be looked at as a sign that he trusts Emily enough to lay out his emotions like that, but let's hope that he finds a healthier way to express himself and adopts a more balanced amount of realism and optimism.
Elsewhere on Emily Owens M.D., after another embarrassing incident in the ER, Emily decides to take Dr. Bandari's advice to toughen up, while Cassandra tries to get information from Emily about Will and Tyra sets Emily up on a date to get her mind off of Will.
Emily Owens M.D. airs Tuesdays at 9:00 on The CW. You can check out a recap of the most recent episode here, as well as the TVOvermind Emily Owens M.D. discussion forum here.
Will Micah be able to keep his professional and personal lives separate at the hospital, even as it pertains to his mother? Do you think that Emily has it in her to toughen up around the ER? Does Tyra know Emily well enough to set her up with someone compatible, or is the point of the date more to get Emily out of the house?