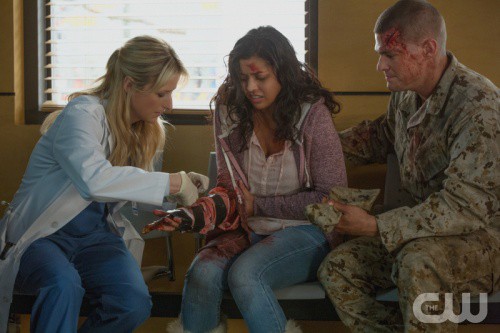 At the end of last week's episode of Emily Owens M.D., Emily decided that she was tired of waiting around for Will to choose her and, subsequently, that she was over her feelings for her medical school friend. It was quite a big step for her, considering how much time and mental energy she's spent pondering her feelings and trying to dissect his, and one that was a long time coming. Now that she's washed her hands of the idea of the two of them being together, how will it impact their working relationship and the chemistry in the Denver Memorial ER?
On the next episode of Emily Owens M.D., Emily and Will work together to take care of an injured dog and Cassandra confronts him on his true feelings for Emily as a result. The Emily Owens of a few episodes ago would have been ecstatic at the development, at the chance that her nemesis would set her crush free from her clutches and the two of them could be together, but the current Emily Owen is put in a difficult spot. On one hand, her feelings for Will have dried up due to his treatment of her and she's decided to wait to be someone's first choice; on the other, a man she's had a crush on for years might end up breaking up with his girlfriend because of her and while she may be newly confident/independent, she's not going to want to hurt him for fear of losing their friendship. What will Emily do?
Elsewhere on Emily Owens M.D., there's a major bus accident that puts Emily in charge of triage, while Tyra and her father are in the operating room for the first time together. His lack of respect for her as a capable doctor causes their relationship to come to a head and a breakthrough to occur.
Emily Owens M.D. airs Tuesdays at 9:00 on The CW.
Will Emily and Will be able to work together without any tension from their personal relationship seeping through? Is the bus crash going to be a way for Emily to prove her mettle to everyone at Denver Memorial, including herself? Can Tyra get her father to see her as an adult and a doctor who can make a real difference in the operating room?
http://www.youtube.com/watch?v=zqh35BV6nTs
http://www.youtube.com/watch?v=OTwayepByPQ