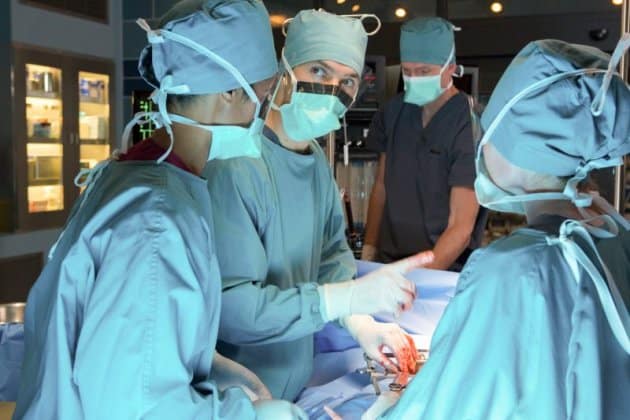 Thus far on Emily Owens M.D., Tyra seems to be the only friend that Emily has at Denver Memorial. Things with Will are a little shaky, her relationship with and feelings for Micah are both undefined (at the moment), and there's the whole matter of Cassandra Kopelson making it her life's goal to torment Emily as often as possible, so having Tyra in her corner has made the experience at the hospital a little less painful. However, Emily will soon become involved in the family drama between Tyra and her father over the former's coming out and shocking news about the latter.
Below are the dates, episode titles, and episode descriptions for the next two episodes of Emily Owens M.D., including the fall finale on December 4th.
Tuesday, November 27th – "Emily and. . .the Question of Faith"
Emily (Mamie Gummer) and Tyra's (Kelly McCreary) infant patient seems perfectly normal until they discover she has a condition that forces her parents to make a difficult decision about her future. Emily's is assigned to Dr. Bandari's (Necar Zadegan) deeply religious patient who finds his faith shaken after a risky surgery. Will (Justin Hartley) becomes impatient waiting for his patient's lab work and takes a chance on a possible diagnosis, breaking protocol and upsetting Micah (Michael Rady). Meanwhile, Tyra is finally ready to tell her father the truth about being a lesbian and seeks out Emily for support, but before she can reveal her secret, she gets shocking news of her own.
Tuesday, December 4th – "Emily and. . .the Good and the Bad" (Fall Finale)
When the beloved hospital flower delivery man collapses, Emily is determined to diagnose his condition, but she is baffled at his reluctance to get treated. Will and Emily are assigned to a help a sick prisoner, but find it hard to stay professional and not let his crimes cloud how they treat him. Meanwhile, Dr. Dupre (guest star Harry Lennix) continues to try to smooth things over with Tyra, but when he hits a rough patch he comes to Emily for help and once again she's stuck in the middle between them.
Emily Owens M.D. airs Tuesdays at 9:00 on The CW.
Will there be tension between Will and Micah following the former breaking protocol? Do you think that Tyra should come out to her father? Which patient are you most looking forward to seeing?