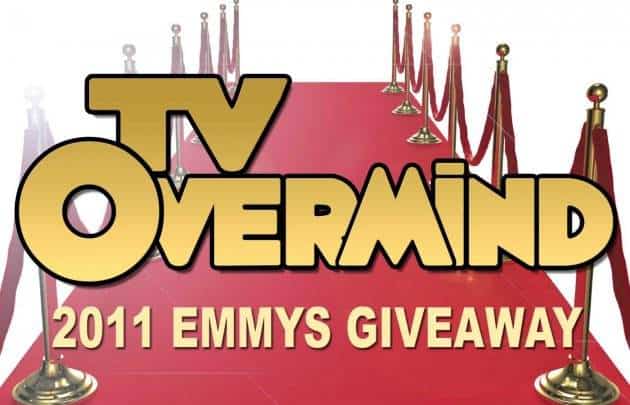 The 2011 Primetime Emmys are almost upon us and the TVOvermind crew is gearing up to bring you live blogging, tweeting, and facebooking throughout the event. Here's what we have in store:
First, Editor in Chief Jon Lachonis will be manning the TVOvermind Twitter and Facebook Page giving live feedback throughout the evening on the winners, the losers, and the snubbed. I'll also be keeping a keen eye out for any occurrences of new Dharma logos or LOST number cameos.
On TVOvermind.com proper, Managing Editor Clarissa will be live blogging the event and maintaining the perpetual 2011 Primetime Emmy winners list. We're also prepping a 2011 Emmy ticker that will bring together the top names in TV Entertainment news live in one place.
And the winner is … YOU!
But just bringing you the latest news on the winners and losers isn't all we'll be doing to celebrate the 2011 Primetime Emmys, we're also going to be giving away current season DVD sets, along with some surprise schwag, for Outstanding Lead Actress in a Drama/Comedy, Outstanding Lead Actor in a Drama/Comedy, Outstanding Comedy Series, and Outstanding Drama. Here's the way it works:
Twitter: All you have to do is follow @tvovermind on twitter and tweet the following to automatically be entered:
I'm following @tvovermind for a chance to win an EMMY prize pack! You can too! visit http://bit.ly/pWZ5m5 for details!
Facebook: First, join the TVOvermind Facebook page to get instant updates on all of your favorite TV shows, then comment on each of the four outstanding categories as the winners are announced. You don't have to say anything in particular, but how about who you hoped would win the 2011 Primetime Emmy Award for that category?
The Prizes
The prize will correspond with whoever wins the following categories:
Outstanding Lead Actress In A Comedy Series
The Big C – Showtime – Showtime Presents, Sony Pictures Television, Perkins Street Productions, Farm Kid, Original Film
Laura Linney as Cathy Jamison
Mike & Molly – CBS – Bonanza Productions, Inc. in association with Chuck Lorre Productions, Inc. and Warner Bros. Television
Melissa McCarthy as Molly Flynn
Nurse Jackie – Showtime – Showtime Presents, Lionsgate Television, Jackson Group Entertainment, Madison Grain Elevator, Inc. & Delong Lumber, A Caryn Mandabach Production
Edie Falco as Jackie Peyton
Parks And Recreation – NBC – Produced by Deedle-Dee Productions, Fremulon, 3 Arts and Universal Media Studios
Amy Poehler as Leslie Knope
Raising Hope – FOX – Twentieth Century Fox Television
Martha Plimpton as Virginia Chance
30 Rock – NBC – Broadway Video, Little Stranger, Inc. in association with Universal Media Studios
Tina Fey as Liz Lemon
Outstanding Lead Actress In A Drama Series
Friday Night Lights – DirecTV – Imagine Entertainment in association with Universal Media Studios and Film 44
Connie Britton as Tami Taylor
The Good Wife – CBS – CBS Productions
Julianna Margulies as Alicia Florrick
Harry's Law – NBC – Bonanza Productions, Inc. in association with David E. Kelley Productions and Warner Bros. Television
Kathy Bates as Harriet "Harry" Korn
The Killing – AMC – Fox Television Studios
Mireille Enos as Sarah Linden
Law & Order: Special Victims Unit – NBC – Wolf Films in association with Universal Media Studios
Mariska Hargitay as Detective Olivia Benson
Mad Men – AMC – Lionsgate Television
Elisabeth Moss as Peggy Olson
Outstanding Lead Actor In A Comedy Series
The Big Bang Theory – CBS – Chuck Lorre Productions, Inc. in association with Warner Bros. Television
Jim Parsons as Sheldon Cooper
The Big Bang Theory – CBS – Chuck Lorre Productions, Inc. in association with Warner Bros. Television
Johnny Galecki as Leonard Hofstadter
Episodes – Showtime – Showtime Presents, Hat Trick Productions, Crane Klarik Productions
Matt LeBlanc as Matt LeBlanc
Louie – FX Networks – FX Productions
Louis C.K. as Louie
The Office – NBC – Produced by Deedle-Dee Productions and Reveille LLC in association with Universal Media Studios
Steve Carell as Michael Scott
30 Rock – NBC – Broadway Video, Little Stranger, Inc. in association with Universal Media Studios
Alec Baldwin as Jack Donaghy
Outstanding Lead Actor In A Drama Series
Boardwalk Empire – HBO – Leverage, Closest to the Hole Productions, Sikelia Productions and Cold Front Productions in association with HBO Entertainment
Steve Buscemi as Nucky Thompson
Dexter – Showtime – Showtime Presents, John Goldwyn Productions, The Colleton Company, Chip Johannessen Productions
Michael C. Hall as Dexter Morgan
Friday Night Lights – DirecTV – Imagine Entertainment in association with Universal Media Studios and Film 44
Kyle Chandler as Coach Eric Taylor
House – FOX – Universal Media Studios in association with Heel and Toe Films, Shore Z Productions and Bad Hat Harry Productions
Hugh Laurie as Dr. Gregory House
Justified – FX Networks – Sony Pictures Television and FX Productions
Timothy Olyphant as Raylan Givens
Mad Men – AMC – Lionsgate Television
Jon Hamm as Don Draper
Outstanding Drama Series
Boardwalk Empire
Dexter
Friday Night Lights
Game of Thrones
The Good Wife
Mad Men
Outstanding Comedy Series
The Big Bang Theory
Glee
Modern Family
The Office
Parks and Recreation
30 Rock