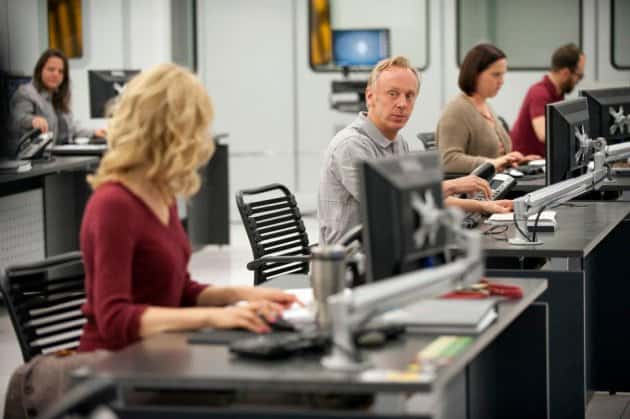 Last week on Enlightened, it looked like Tyler might be coming around on Amy's plan to bring down Abaddonn. He might have initially agreed with Amy's intentions of making the company pay for treating them poorly and committing egregious environmental crimes, but he had been worried about getting fired for using his IT password to get executive e-mails and (eventually) leaking the story to the media. Has Amy finally calmed any fears that Tyler might have of what a full-scale burn-down of the corporation will do for his professional relationship?
Not really. In a sneak peek from the next episode of Enlightened, Amy's once again all a-flutter at the idea of getting their story out into the public with Jeff's help while Tyler's fretting about burning the bridges he had built in his time at Cogentiva. Cue Amy talking to him about how they deserve to have a voice, even if they've been banished to the basement, and reminding him that the retrieved e-mails indicated that they'd be fired in a couple of weeks anyway. Tyler doesn't give a definitive answer, only leaving to go to the bathroom, but before this investigation goes any further, he's going to have to pick a side. Amy can be flighty, self-serving, and painfully delusional; in this instance, she's all those things while being absolutely correct. If he does agree to go along with her, things will get a lot more difficult for the two of them, Abaddonn's corporate execs eager to stomp out any threat to their empire.
While the investigation may look like peanuts at the moment, it has the potential to grow into something huge and impacting that will live on in infamy. Tyler will have finally escaped the confines of the basement and began living his life – if only he could let himself begin today.
Enlightened airs Sundays at 9:30 on HBO. You can check out episode descriptions for the next two episodes here, as well as a preview for the next episode here.
Will this be the moment that Tyler fully comes on board for Amy's plan? Is Amy using Tyler to get what she wants? How much help will Jeff be in getting their story traction in the media?