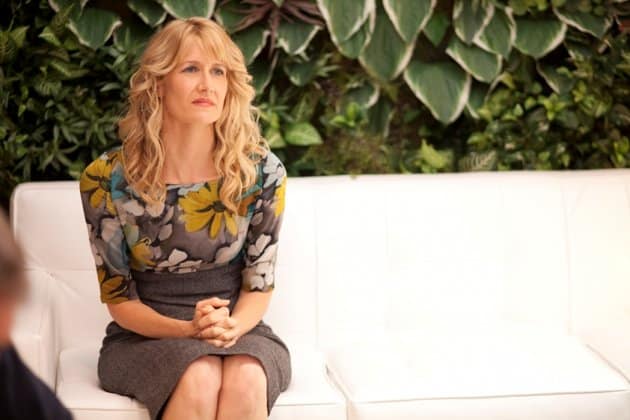 Last season on Enlightened, Amy Jellicoe was screaming into the wind. As loud and as passionate as she may have been regarding changing the environment at Abaddonn, it seemed like those around her either couldn't hear cries for justice or didn't want to indulge her. However, going into the second season, Amy has increased motivation to bring down the company she held so dear for so long and along with Tyler and a kind reporter willing to listen, she just might be able to do so.
Listed below are the dates, times, episode titles, episode descriptions, and replay information for the first three episodes of the second season of Enlightened.
SUNDAY, JAN. 13 (9:30-10:00 p.m. ET/PT) – "The Key"
Looking for "the key" to ruin Abaddonn and "free" its employees, Amy (Laura Dern) orchestrates a meeting with Jeff Flender (Dermot Mulroney), a charming whistle-blowing journalist, sharing incriminating e-mails she printed out at work with Tyler's (Mike White) IT password. Though he doesn't find a story in the e-mails, Jeff encourages Amy to dig deeper and find more explosive evidence that could help bring down the company.
Other HBO playdates: Jan. 13 (10:30 p.m., 11:30 p.m.), 16 (midnight) and 17 (10:30 p.m.)
HBO2 playdates: Jan. 14 (9:30 p.m.), 15 (11:00 p.m.) and 19 (8:00 p.m.)
SUNDAY, JAN. 20 (9:30-10:00 p.m.) – "Revenge Play"
Amy and a still-reluctant Tyler meet Jeff at a jazz club, where he reveals he's already been working on a story about Abaddonn but needs proof of bribery, leading Amy to revel in her fantasies. When several top execs can't log onto their accounts, Abaddonn's breach of security is exposed, leaving Tyler scrambling to find a solution that won't lead investigators to him or Amy. Suspecting foul play, Dougie (Timm Sharp) vows to root out the true perps, while Krista (Sarah Burns) is rushed to the hospital with a pregnancy complication.
Other HBO playdates: Jan. 20 (10:30 p.m., 11:30 p.m.), 23 (midnight) and 24 (10:30 p.m.)
HBO2 playdates: Jan. 21 (9:30 p.m.), 22 (11:00 p.m.)  and 26 (8:00 p.m.)
SUNDAY, JAN. 27 (9:30-10:00 p.m. ET/PT) – "Higher Power"
Amy receives a letter from Levi (Luke Wilson), who's still in Hawaii and has been bristling under the constraints of Open Air, its holistic philosophy and his bodily-function obsessed roommate Tony (Christopher Douglas Reed). To cope, Levi escapes with a pair of fellow malcontents, Travis (Christopher Abbott) and Danielle (Ashley Hinshaw), for a night of drugs, alcohol and debauchery at a nearby hotel. After pushing himself to his hard-partying limits, Levi decides he's ready to return to Open Air and give rehab one more chance.
Other HBO playdates: Jan. 27 (10:30 p.m., 11:30 p.m.), 30 (midnight) and 31 (10:30 p.m.)
HBO2 playdates: Jan. 28 (9:30 p.m.) and 29 (11:00 p.m.)
The second season of Enlightened premieres Sunday, January 13th at 9:00 on HBO, followed by the season premiere of Girls. You can check out the season two trailer here, as well as a behind the scenes featurette here and an additional teaser here.
Are you excited for the second season of Enlightened? Will Amy be able to bring down Abaddonn this season? How will her relationship with Levi evolve after he gets out of rehab?