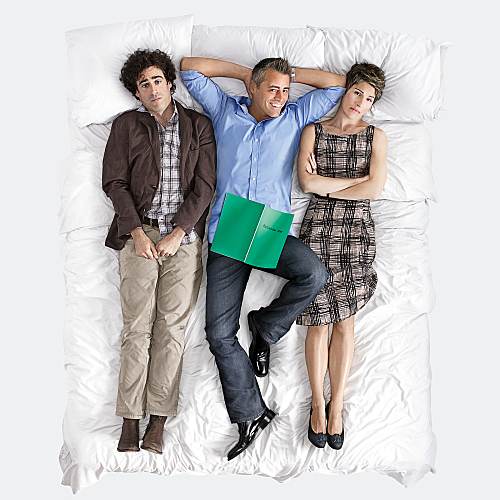 Matt LeBlanc is returning to television tonight in a role that finally shows him as more than 'that guy from Friends', even when he's technically playing 'that guy from Friends'. Showtime's new comedy Episodes centers primarily around Sean and Beverly, played by the wonderful Stephen Mangan and Tamsin Greig. The married duo are the creators of a hit British show called Lyman's Boys. At a BAFTA ceremony, they approached by a Hollywood executive named Merc (Mad About You's John Pankow), who wants to adapt their show for American television. Merc is obnoxious and slimy, but also amusing. He's probably the worst example of a network executive and is but one attempt of this show to poke fun at the television industry in general. Sean and Beverly are lured to Los Angeles by the promise of money and a gorgeous mansion, but find themselves as fishes out of water, not used to how the TV industry works in America, especially when the studio wants to cast Matt LeBlanc in the lead role – a role he is most definitely not suited for without changing around much of the show.
As I read what other critics think of Episodes, I find a lot of mixed reviews. Some think its unfunny, while other think it's hilarious. I can only tell you what I think based on my own preferences. I think Episodes is very amusing, but occasionally awkward. There are times when the actors deliver a joke and it almost feels like there should be crickets chirping in the background. Fortunately, those moments are not as prevalent as the times when I was laughing out loud. The pilot episode of the series is not as funny as future episodes are, so you should probably give the show a chance beyond the first hour, especially since LeBlanc doesn't appear very much in the pilot. I actually found LeBlanc to be the high point of most episodes that he appeared in. He plays a much more obnoxious, douchey version of himself, but he plays it well.
There's a lot about Episodes that isn't new. For example, the show parodies television executives and actors. These overly simplistic views of these roles in the industry aren't all that surprising (ie. the fact that actresses hide their ages, or network execs are full of phoney praise and little substance). Other shows like Entourage and 30 Rock have shown these parodies before. But as the episodes progress we see more depth in the three main characters – including unexpected emotion in LeBlanc. I think the strength of the show lies in Stephen Mangan, Tamsin Greig and Matt LeBlanc, and when the three of them interact, laughs are to be found. While I don't think Episodes will turn out to be the funniest comedy on television, it's still an enjoyable new show.
clarissa @ tvovermind.com
twitter.com/clarissa373
twitter.com/tvovermind