For many the greatest gift of the holidays is the gathering of loved ones joyously spending time together all at once. In Eureka's final Christmas episode titled, "Do You See What I See," Syfy and Curious Pictures have teamed to give fans an exciting celebration of animation styles bringing the town of geniuses to life in a most adventurous yuletide tale. Claymation, traditional cell animation, cutting-edged anime, and CGI combine and collide to produce this special holiday story sure to be an instant classic.
Last year Eureka delivered one of my favorite holiday-themed specials ever, thanks in great part to the extraordinary guest performance of Chris Parnell as Dr. Noah Drummer. Parnell returns this year to sprinkle just the right amount of magic in the mix, and with fellow guests Jim Parsons, Edward James Olmos, and, Matt Frewer reprising his fan-favorite role of Jim Taggart, the thrilling wonder of Christmas abounds.
This year S.A.R.A.H. and the kids – Kevin, Zoe and adorable baby Jenna – are charmingly pivotal to the plot, with S.A.R.A.H. (short for 'Self Actuated Residential Automated Habitat') narrating and the three kids unwittingly picking the animated styles the town and characters transform into.
Series star Colin Ferguson, Sheriff Jack Carter to the residents of Eureka, graciously answered a few questions last week about this Christmas episode at a time when he'd still only seen a rough cut himself, and all filming of the series has wrapped. As to where this story fits into the series' ongoing continuum Colin illuminated, "It exists out of time, and part of that is a necessity for the writing staff because of when you shoot it and all sorts of stuff like that." He continues, "And as well, you want it to be perennial; you want it to be something that can air every single year. So if you lock it in the continuum of a show, you almost make it outdated by the next year. So I think to do a service to the holiday it exists out of time." Still, the timeline is indirectly expressed by the age of the kids.
Since Syfy holiday shows typically film in July a commonly asked question is, "How do you summon the feeling of the Christmas spirit in the middle of summer?" Colin admits amusedly, "For me it's a really great feeling, strangely. It seems like it would be cheesy, it seems like it would be forced, it seems like it would be a lot of artifice but it's not. You dress up the sets and you have everybody, you know, pretending that it's Christmas and, "Oh it's so cold and rainy," and it's really fun. It's a great, great place to shoot. And it's fun shooting it out of sequence. I mean it's a pain because you're sweating and it's 30 degrees and you have a coat on. But besides that, it's actually a lot of fun to bring Christmas into July. It's like you're Australian."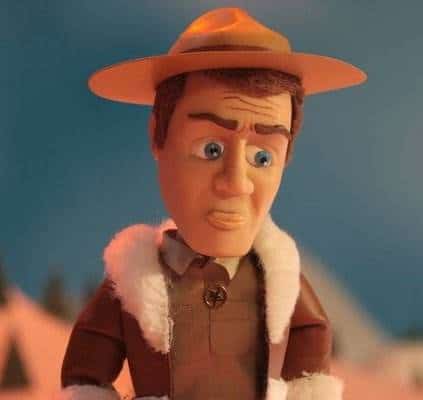 So, what about the actual holiday season does Ferguson most look forward to? "This sounds odd, but my favorite thing about the holidays is that it means the New Year is coming and I love a new year. I love that the spring is going to come shortly after that and I like that a lot. I'm not a big holiday guy. That's what I'm looking forward to. It's simple but that's what it is."
Adding multiple animation styles to Eureka's already typically wondrous storytelling had drastically different effects on the actors compared to the production staff? "It was a very, very different way to prep and shoot than we're used to. It was much easier on us actors and much harder, I think, on the production staff — particularly the post-production staff who had to keep a live action wing going as well as all this animation stuff. It stretched them I know, and they're tired. But for us it was way easier. For us actors it was sort of more of a concept than a reality. We took one of the sets that we usually shoot in, Café Diem, sat there for six hours one day and blew through thirty pages of dialogue or something like that. And that's awesome. I mean, we loved, loved that."
As the cast's only control over their performance was through their voices, it begged the question of whether they adjusted their diction or delivery? Colin confides, "We didn't really adjust vocally for any of the animation that we were doing." How about the characters' animated appearance? Did Colin have input into how his character would look? "I didn't have any say in it. It was a really long process for them, so to add one more cook in the kitchen would have been a really bad idea. But I was really pleased with how it came out. I mean they're still not done. I've only seen the rough version, I haven't seen the final tightened version that's going to air. I really liked it. I thought it was really cool to see. You have a vision of yourself, and… I guess my forehead is all wrinkly? Because they said, "Yes, it didn't look like you until we put wrinkles all across your forehead." And I was like, "Oh really? Thanks." But apparently without the wrinkles it's not quite me. So that's sort of the indicator that I learned about myself. But it was really, really cool to see other people's interpretation." The wrinkles he's describing pertain to the animated version of his character he called his favorite. "My favorite is the old Rankin and Bass Claymation style. It's just not something that anyone does anymore, nor will they probably ever do it anymore, because it's so low-tech. That chunky way that they move, that sort of stutter way that they move – like Fred Astaire when he was S.D. Kluger – it's so cool, I mean, it's so warming. That was one of those things, when you see all your friends all done up with their Claymation characters, it's really sort of an amazing thing to see. It brought me back to when I was a kid. We asked for our little Claymation dolls afterwards — they called them dolls – but Curious Pictures said, "You can have them but they're so beaten by the time they're done, like they just – they're completely falling apart." They said they wouldn't even survive a shipping, so we didn't get to have them. But that's definitely my favorite. Although the anime is really cool, it's sort of sexy and fun."
As a fan myself I must confess, even before the super-cool anime segment emerged I'd pondered the possibility of a Eureka spin-off or animated version voiced by the current cast. Colin divulges there's actually a spin-off in the works! "I know the guys are writing some sort of spinoff, a next generation Eureka show that they're pitching to Syfy. Who knows if that'll get picked up or anything? But hopefully the idea will continue. And there's some really fun, fun stuff that happens this year. I think the season premiere for next year should've been the season finale from this year because not only do they address what went on, it makes this crazy left turn that we deal with for the rest of the time. And it's a really, really cool idea. It's not what you expect, you could never guess that it's coming and it's the best ending of any episode we've had – the Season Premiere."
Considering that Eureka's final episode has already been shot, Colin's secret Christmas wish for Sheriff Carter's future seems extraordinarily poignant, "I think for Jack it would be the simple wish of just raising a family again, in a sense properly. And continuing to do what he does in the town. I think he belongs there, I think the town should sort of go off, you know, and do what it does forever. So I – my wish would be that he gets to settle in and have a real family community small town life. I think it would do well for him to have that."
Last year's Eureka special set a standard I felt would be very tough to meet, trust that – especially for animation fans – this year's Christmas episode set a new standard all its own. "Do You See What I See" airs tonight at 8/7c on Syfy, kicking off a night of outstanding yuletide specials.

See how Colin answered when Syfy asked him, "What would you do if someone came down your chimney?"