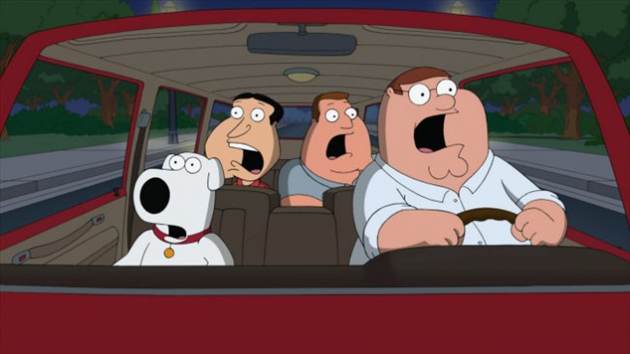 A new episode of Family Guy will be airing this weekend. The episode, titled "Forget-Me-Not", features Peter, Joe, Quagmire and Brian enjoying a guy's night out at a laser tag arena. While driving home, the boys encounter something…mysterious. Is it aliens? Something else?
Whatever it is, it causes them to get into an accident. When they wake up, they're all in the hospital. Unfortunately, none of them seem to remember who they are and they're all shocked to see that the streets of Quahog are completely empty. Has everyone been taken away or have the boys been transported to another Quahog?
They travel the streets looking for clues and eventually come upon the Griffin house. But when Joe, Quagmire and Brian notice the novelty poster Peter had gotten made at laser tag – proclaiming himself destroyer of the world – they wonder if he's responsible for their situation and turn on him. Will Peter be able to stop his friends from killing him and will the guys be able to figure out what happened to everyone?
Tune in to Family Guy on Sunday, March 18 at 9:00 p.m. ET/PT to in find out. Until then, watch a preview for the episode below.