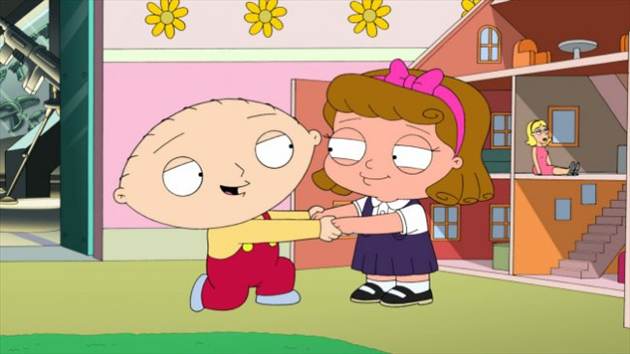 Cate Blanchett guest voices in tonight's all new episode of Family Guy, as a girl that Stewie falls in love with.
First, Lois is back at the doctor's office with busted ribs because she gets crushed and hurt every time Peter rolls over in bed. Her solution is to buy separate twin beds for her and Peter, which keeps her safe, but Peter has a serious problem with it. It turns out that he can't sleep unless someone is sleeping next to him that he can cuddle with. So he proposes a crazy idea to Quagmire, who agrees with his sleeping habits: the two of them will spoon together in bed at night. Quagmire is totally on board with the plan, but Lois thinks the whole situation is ridiculous. Of course, the whole thing gets weird very quickly.
Stewie also meets a girl who is the female version of himself and feels immediately smitten with her.
Watch four sneak peeks below for tonight's all new episode of Family Guy, airing at 9:00 p.m. ET/PT on Fox.