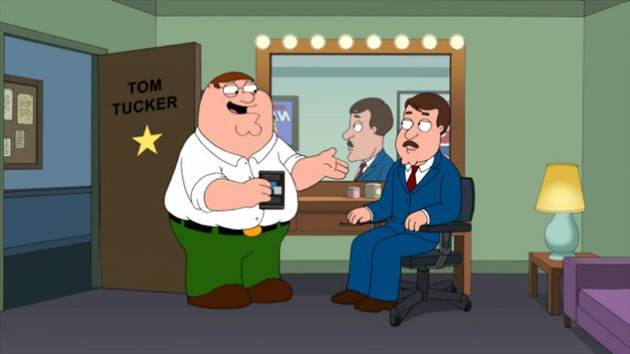 The Fox Sunday night animation line-up is new tonight, which includes an all new episode of Family Guy.
In tonight's episode of Family Guy, Peter is determined to revive Tom Tucker's acting career and he decides to take on a job as Tom agent in order to help him. The pair heads to Hollywood to find Tom some roles. "Everybody needs just one person to believe in their dreams" Peter explains to Lois, "So they can spread their wings and fly". Naturally, the next moment Peter is shooting down Meg's request for money so she can take dance classes.
Chris and his new girlfriend are also the focus of the episode, but the family is very shocked to find out she resembles a certain member of the family: Lois. Brian and Stewie thinks it's creepy, although Lois seems oblivious. In fact, Brian thinks that the fact that the girl looks like Lois is preventing Lois from realizing how horrible she is.
Watch three sneak peeks below for tonight's episode of Family Guy, airing at 9:00 p.m. EST on Fox.