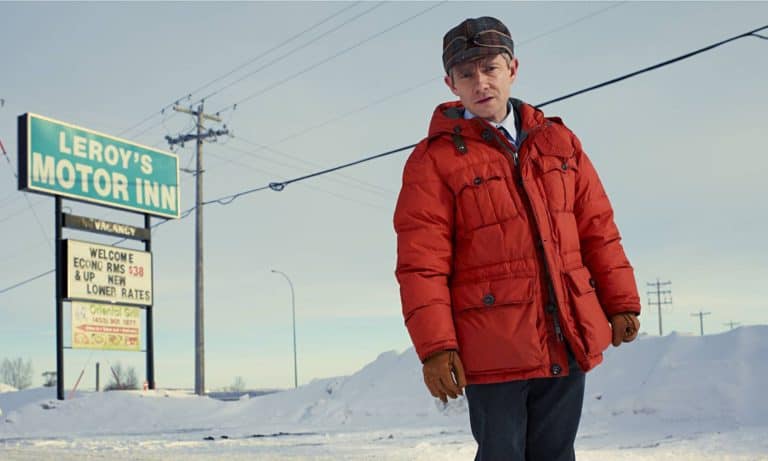 When Season 1 of the FX show Fargo premiered, fans of the movie Fargo were both excited and skeptical. When we met Lester Nygaard we could not fail to see the similarities between this character and Jerry Lundegard from the movie. Martin Freeman's accent and appearance paid homage to William H. Macy reminding us of the movie, so that was a great start to plant us right dab center back in the Fargo universe. Just this time the nebbish unhappy salesman has Lorne Malvo to light his violent fire and help him become more of the awful person he really is deep inside. When Lester picks up that hammer and splits his wife's head open, we know we are traveling down a very different path, while still in the Fargo universe of freezing weather, Waffle Houses and elongated O's.
The main reason why the FX show Fargo is better than the movie Fargo is more. More wacky deaths, more wonderful female police characters, more romance, more detail and a host of Coen Brother's references in the form of well placed Easter Eggs.
More Wacky Murders
How many ways can you kills somebody? In the Fargo movie universe there were shootings galore, and body disposal in a wood chipper, but in Fargo the series even an air conditioner can become a deadly weapon.
More Cool Female Cops
Molly Solverson is on the case in Season 1, and her father runs a restaurant. In Season 2, set in the 1970s, dad is the cop on the case and Molly is a little girl. Then in Season 3, we meet yet another interesting law enforcement officer, Gloria Burgle. Molly and Gloria have all the quirks that remind us of movie Marge, yet they are unique individuals with complicated private lives. Best line from Season 3 so far belongs to Gloria "Would ya' stop saying Facebook?"
More Romance
Although Marge and Norm Gunderson had a cute little relationship, it pales in comparison to the steamy soul mate connection of Season 3's Ray Stussy and Nikki Swango. They are so adorable together that viewers forget that they both have a sociopathic streak. Ray is obsessed with getting back. of all things, a stamp. Norm was an artist that painted Mallards for stamps. Could there be a connection?
More Details
It's relatively easy to understand Fargo the movie's plotline, yet the series gives viewers more twists and turns to keep up with and more surprises down the road. Even the most benign characters, like an old grandpa, can have a fascinating backstory. With the series, you have to pay attention, right down to the name on a toilet when someone is vomiting (70s Flashback Season 3 Ennis' former life). And what's up with the Season 2 UFOs? Fan theories are all over this and the showrunners did explain the inclusion of flying lights
https://www.youtube.com/watch?v=R8r8UHzfPhw.
Easter Eggs
If you are a die-hard fan of the movie Fargo, or any Coen Brother's movie, don't despair.  There are so many references in the series Fargo that include several of the fabulous Coen Brother's films, not just Fargo. If you don't believe me, just check out this Youtube video that breaks it all down.
https://www.youtube.com/watch?v=cusD04c8eJM.