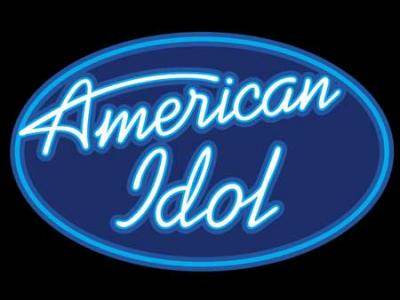 I honestly have no idea who is going home tomorrow, and I am happier than ever. Unlike the last two weeks, there is no clear indication of who should and will go home. I may have to stalk Dial Idol tomorrow, but I can't give any solid prediction myself.
Before I go into contestants, can I just say that Randy Jackson and Jennifer Lopez (and more so Jennifer) are turning into a real one-two punch of awesome judging lately? I think Jennifer's been more on point, but I'm really digging where they are coming from.
I'm still not a big fan of the professional producers, but there were some glimmers that the contestants are becoming more vocal in what they want.
As to the performances, I'd say they were mostly solid. I'm not sure anyone was a wow for me, but I definitely think some contestants stepped it up (while others, not so much)
Casey Abrams: 'I Heard It Through the Grapevine' I'm not sure if he looked better with the slicked back hair, or scarier. I liked that he held back some of the growls and screams that he's been prone to lately. I definitely got a better sense of overall performance this week from Casey. Now I just need to hear a bit more of the musicality I know lurks beneath to really say he's back on track, but this was definitely an improvement.
Thia Megia: "(Love Is Like a) Heat Wave" Upbeat song? Check. Showing some personality? Check. Cute teenagey outfit? Check, if she was going to homecoming. I liked that Thia finally showed that she really wants to be here for herself. I'm not sure if it's too little too late, but we'll see. I hope she continues to bust out of her ballad box, and maybe goes clothes shopping. (Also, I'm almost certain there was some sort of lyric problem, but I cannot figure it out)
Jacob Lusk: "You're All I Need to Get By'Look. I like Jacob, and I really really loved the verses on this song. It showed that he could sing, and had something really interesting to add to the Idol stage. But I'm not sure it was as good as the judges made it out to be. The choruses were still a little shouty and out of control, but I'm impressed that Jacob is beginning to harness his voice.
Lauren Alaina: 'You Keep Me Hangin'On'What I loved best about this was how Lauren said she connected with the song. Last week I thought she sang really well, but there was a definite disconnect with the lyrics. This week, she looked like she was having fun, and really connecting with the song. My only note to her would be the same I gave to Thia: please come back next week dressed like a teenage girl. The dress was okay, but kept her from really performing the song, I think.
Stefano Langone: 'Hello' Obviously Stefano has never watched an episode of American Idol. I don't mind repeat songs, but the number one rule, I think, for any contestant is if you are going to sing a song that another contestant had a moment with, you have to knock it out of the park. I kept an open mind (and trust me, it was hard, becasue David Cook was the first person who was my favorite who won) and he did sing it well, and I appreciated what he was trying to do with the song. But Jennifer correctly pointed out that he didn't really connect emotionally. And he pretty much oversang the song, missing the point of the lyrics entirely.
Haley Reinhart 'You've Really Got a Hold On Me'I love Haley's voice. I think she brings something really special. I'm so glad she went back to the blues vibe, because it really worked for her. I'm hoping America gets behind her, because I think she could do really well. My only note to her is to be careful about song choice, and maybe watch herself sing, because she does have some odd stage movements.
Scotty McCreery 'For Once In My Life' The arrangement was cheesy, and yet somehow, I couldn't help but love this. Scotty knows exactly who he is, and I kind of dug the countrified version. If I were the vocal coaches, though, I'd be working on his phrasing, because he tends to drop important notes. But other than that, his vocal was spot on.
Pia Toscano 'All in Love Is Fair' I told myself I would be done with Pia if she sang another ballad. Yet I still find something about her incredibly likeable. She really really sang tonight, and I really hope she does try to change it up. I know she can sing, I just want to know what kind of artist she is now.
Paul McDonald 'The Tracks of My Tears'Ok, Paul, I will give you credit for taking the song in a different direction. I really really dug the arrangement of this, and his vocals were better than the last two weeks. My only concern was the same as Stefano: there seemed some sort of disconnect emotionally from the song and I can't quite place it.
Naima Adedapo 'Dancing in the Street' Naima finally blended her awesome personality with amazing singing tonight. I'm not sure what was going on with the dancing, but I stand by the thought that she's a real Blake Lewis here. She's going to do what she's going to do, and we're just along for the ride.
James Durbin 'Living for the City'I see a lot of comments around the Internet that people can't connect with James. That he seems too self-assured. I argue that we complain when someone doesn't have confidence, so why argue when they do? I'm not going to go into his Asperger's, because he could be actually that cocky in real life. But bravado is a natural defense, so I'm willing to give him the benefit of the doubt. (Also did you see him hug the bassist and thank the back up singers?) As far as his performance? It was very solid, and I loved how comfortable he was with the crowd.
If I was basing it on tonight alone, poor Stefano would be gone tonight. But I'm not so sure that he hasn't done so well the last couple of weeks that he won't stay. Each of the top 11 made a case that they should go on tour. Tomorrow night is going to be interesting.