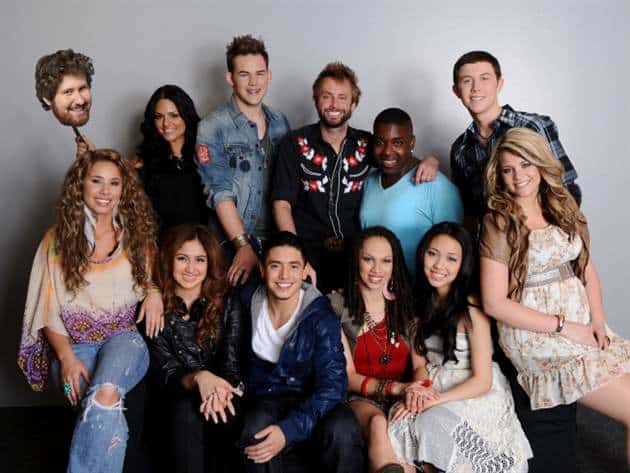 There's a certain letdown in week 2 of American Idol. And tonight for the first time, I missed old Idol. I missed Ricky Minor. I missed inventive and new arrangements. And except for a few cases, I missed inventive song choice.
So instead of torturing I'll go in performance order and bust this out.
Naima Adedapo "What's Love Got To Do With It" I wanted to like this more than I did. I liked the idea of the arrangement, and Naima was fierce, and feeling the song. That said, it was flat most of the way through, and sort of one-note emotionally. If she's not in the bottom three I'll be surprised.
Paul McDonald "I Guess That's Why They Call It the Blues" Somebody please Paul a guitar already. This felt disjointed and as Simon would have said, as if my drunk uncle has gotten up at a wedding to sing. Again he could be a surprise addition to the bottom three.
Thia Megia "Colors of the Wind." WHY? WHY? She sounded lovely on this. But somewhere in there lurks someone right? Or is she really a ballad singing robot? I want to like her, I do, but seriously. The only benefit to this was that it was an age appropriate song.
James Durbin "I'll Be There for You" He sounded a bit sharp the whole way through, and that might have been the shouty nature of this song. I love his stage presence, and I think he'll be fine.
Haley Reinhart "I'm Your Baby Tonight." I wanted to hate this more than I did. I have to admit, she sand this with a bit of spunk and fun, but the judges were right: I have no idea who SHE is, and that bothers me.
Stefano Langone "If You Don't Know Me By Now". I loved NKOTB as a kid, so I was mildly insulted when Stefano dissed them. What Stefano did tonight proves a point: he picked a song he could sing, sang it well, put his heart into it, and threw it on the floor. Best performance of the night by a mile.
Pia Toscano "Where do Broken Hearts Go" For the love of all that is good, Pia, please do not sing something from a power ballad singer next week. She sang the hell out of this song, but again, it didn't really do anything. I'm not going to remember this when it comes time for votes, Pia
Scotty McCreery 'Can I Trust You With My Heart'While the emotional content of this song wasn't entirely appropriate for Scotty, his parents completely won most adorable (although Casey's were a close second) and he showed vast improvement in phrasing and musicality. I can't wait to see what he pulls out next week.
Karen Rodriguez 'Love Will Lead You Back' Bonus points for not singing Gloria Estefan taken away for the brief Spanish. I know you are proud of your heritage, but could you possibly not throw it in my face at every possibility? Also, staying on pitch is always welcome. If she isn't gone this week, I would be surprised.
Casey Abrams 'Smells Like Teen Spirit' This of all the choices tonight encapsulate what is troubling about season ten. This is an interesting song choice, but does Casey do anything with it? No. He sings it like a mad clown with a hernia, and I'm beginning to lose hope that he brings anything but a break from ballads to the stage.
Lauren Alaina 'I'm the Only One' Her vocal was amazing, considering her illness. But unlike Scotty, where I somewhat believed his vocal, I didn't believe hers. There was a nervous smile and calling the crowd to cheer and it just didn't quite work.
Jacob Lusk 'Alone' Somebody please ban this song from Idol. After two (and a half if Carly Smithson's Hollywood Week performance counts) amazing renditions, this song needs to go away. And Jacob sort of missed the emotional point of the song by shouting it at me the entire time he was on stage.
I have a really bad cold, so you'll have to excuse the sort recap tonight. It was just okay for me, really, with Scotty and Stefano being the top two performances in my mind. What do you think?