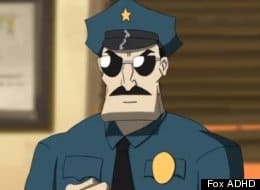 If you think my title is a dig at Fox's animation department, you're wrong. I'm actually being quite literal. Axe Cop started as a comic written by Malachi Nicolle and illustrated by his brother Ethan. While Ethan is 30, Malachi is five. Yes, five.
The result? Hilarity, as anything from the mind of a five year old put to paper is random enough to be really funny. The video below shows what the new show might look like. It's one of the only shows I can think of where it's actually funnier when you realize who wrote it.
How long will this last on Fox? If it's good, probably two months. If it's terrible? Eight, nine years maybe?
Oh did I mention that Parks and Recreation's Nick Offerman voices Axe Cop? Because that should be enough to see you on it by itself. Check out the video below: