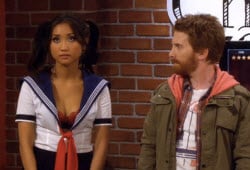 There's been a whole bunch of controversy regarding Fox's Dads, a new series which has Seth Green and Givovanni Ribisi as a pair of fathers who work as game developers.
The problems arise in the pilot when Brenda Song's character dresses up like an anime schoolgirl to woo a group of Japanese businessmen. Her costume is Sailor Moon-ish and the stereotypes flow like wine. But Fox is standing its ground and has decided not to reshoot the scenes in question.
"You will see that Brenda Song's character is a strong, intelligent, empowered young woman who basically runs the company, and who almost always gets the upper hand on the guys," Reilly and Earley wrote.
"This is a show that will be evocative and will poke fun at stereotypes and bigotries — sometimes through over-the-top, ridiculous situations," the executives added. "The series is based heavily on the executive producers' own lives, and the relationships between the fathers and sons on Dads will continue to be the main driver of show's comedic sensibility. Everyone involved with Dads is striving to create a series with humor that works on multiple levels and 'earns' its audaciousness. That said, we do recognize comedy is subjective, and we may not be able to please everyone, all the time."
I haven't seen the pilot, but if Two Broke Girls has gotten away with its HORRIBLY racist Asian stereotype supporting character for this long, I can't imagine this one scene with Song is worse. I also think you can't really judge an entire show based on one episode, though it may not have been smart to lead off with this.
Chances are no one will watch this and it will get cancelled after six episodes. If it was on CBS it might run for 12 seasons, but since its Fox, I have a hard time believing that will be the case.