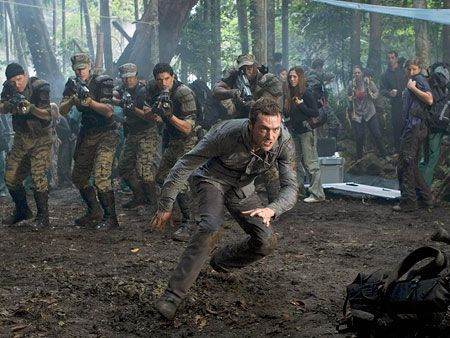 Quite a bit of news coming out of Fox's TCA presentation today. Earlier we reported on the fact that the Glee spin-off is dead, but that the graduating characters will remain on the show (read more here). Now Fox president Kevin Reilly has shared a bit of news on the fate of several Fox shows.
House: The truth is, Reilly doesn't know whether House will be renewed for another season. "We're going to size everything up. It's no secret that last year we said it was going to be a close call and probably it's the last year, but honestly we just haven't made a decision." But if House were to end this year, Reilly promises that the finale would be an appropriate ending for the long-running show. "Should it be the last season, this is not going to be an unceremonious finish, I can tell you that."
Fringe: The show was moved to Friday nights this season and has been performing solidly there. But Reilly admitted that the show is not a money-maker. In fact, Fringe is an expensive show that is actually losing money. And, as Reilly noted, "we're not in the business of losing money.'The fate of Fringe is currently up in the air. Reilly has stated that they're certainly not planning on cancelling it at this time, but the network will have to speak to the studio to see if they can get the budget down so that they're not in the red anymore. What happens beyond that is anyone's guess at this point. For more thoughts on the fate of Fringe, click here.
Terra Nova: The fate of this show is also unknown. It's expensive to produce and the ratings were not exactly stellar, although Reilly seemed pleased enough with them. Reilly even admitted that the show had creative problems throughout its first season. "The fact is, if this is all we produce, we made money on it, the studio made money on it, the audience enjoyed it. We're trying to figure out as a network that's pretty strong across the week right now, is that the best show. If we had a bit more holes on our network, we'd be thrilled to just lock [the show] right in. We're going to decide very soon, because it does need to get back into production over the next month."
Allen Gregory: This freshman show will not be renewed for a second season, but Jonah Hill is still working on projects with Fox.