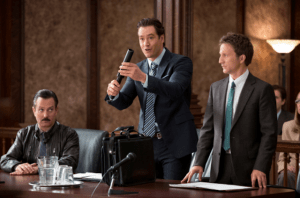 Franklin (Breckin Meyer) and Bash (Mark-Paul Gosselaar) are pretty popular guys.  It makes sense because they are fun, good looking, have great jobs, and live right on the beach. They may want to rethink who they hang out with outside of work.  It seems all their closest friends are always getting in trouble and in need of legal advice.  The latest episode entitled, "Shoot to Thrill," isn't any different.  The duo must help Harley (Reno 911's Thomas Lennon).  He is a bounty hunter that has been charged with assault.
The criminal that Harley was in pursuit of claims that Harley beat him with a hockey stick after he had already been arrested.  In order to prove his innocence, Harley must bring the stick to court and show that it has not been damaged.  Seems like an open and shut case until the hockey stick winds up missing.  Now the case must go to trial.
Harley believes the hockey stick was stolen by Fitzgerald, the guy that Harley has been trying to catch for quite some time.  The criminal that Harley arrested is one of Fitzgerald's henchmen and this is Fitzgerald's way of getting back at Harley.  F and B need to prove that the assault was self defense.  I sense another crazy courtroom antic on the horizon.
To prepare for trial, F and B examine Harley's weaponry he is allowed to carry as a Bounty Hunter.  One of the pieces they find interesting is a bean bag gun.  They decide that Bash is going to shoot Franklin in the face to prove that the effects from the bean bag do not show up until hours after being hit.  Franklin becomes nervous at the thought of getting battered with a bean bag and starts to panic.  The judge orders the weapon banned from the court room.  F and B argue over the gun and it goes off.  Peter Bash is knocked unconscious.
The exploit proves to be advantageous for Harley.  Bash at first appears unscathed from the wound.  Fast forward a few hours later and he looks like her just fought Mike Tyson.  The charges are dropped.  There is still one problem.  F and B need to prove that Fitzgerald framed Harley in order for Harley to get his Bounty Hunter license back.  With the help of Pindar (Kumail Nanjiani), they discover where Fitzgerald is hiding.  F and B threaten to arrest his son if he doesn't confess. He quickly comes clean about everything and is apprehended.
This episode did not include a "B-Storyline." Instead it contained three random stories that only filled about 5 minutes of the show.  The first dealt with Damien (Reed Diamond).  After being on trial for murder, he had decided to live life to the fullest.  Instead of being stuffy and debonair, he has become lazy and care-free.  This becomes short-lived after he loses a client and sees the office turn into a crazy frat party, thanks in-part to F and B.  Having Damien be so laid-back could have played well with F and B and could have delivered plenty of funny storylines in season 4.  Sadly, this won't be happening.
Ellen (Rhean Seehorn) returns as the prosecuting attorney.  The sexual banter between her and Franklin is pretty amusing.  The relationship between the two is continuing to grow.  She has also been offered a job at Infeld, Daniels, King.  This could mean we will see a lot more of her in season 4.  Maybe the two will make their relationship official next season?
If you have been watching the show this season, you may have caught on that Pindar is very much infatuated with Rob Lowe.  Lowe lives next door to the guys and Pindar has been flying drones into his yard to spy on him.  When one of the drones crashes in his yard, Rob Lowe looks into the drone's camera and threatens Pindar, Franklin, and Bash.  More startling than actually seeing Rob Lowe was the fact that Charlie (Nicky Whelan) was at his house.  Is she cheating on Bash?  Hopefully next week's season finale will provide all the answers to our burning questions.