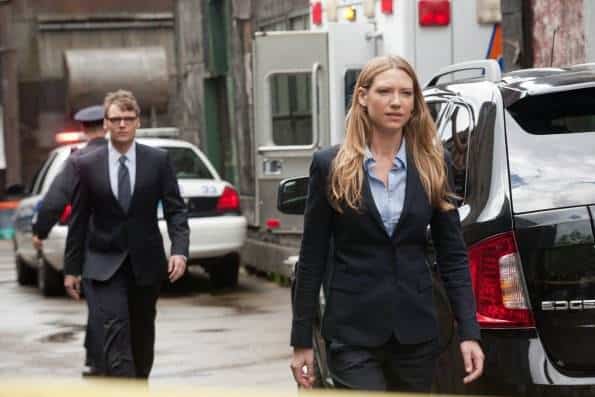 I imagine if the Fringe conference call I attended earlier this week with show-runners Jeff Pinkner and JH Wyman were attended by fans rather than members of the press (not to say there weren't numerous fans among us) it would have gone quite differently. The image that comes to mind is fevered hostage negotiations. Fringe fans around the world are nervously waiting to hear the fate of Peter Bishop and Pinker and Wyman addressed their concerns head on.
"To sort of have Fringe without Peter in some way, shape or form is really not Fringe." Wyman reassured. "We love Peter and we know how much everybody loves Peter. We both can't imagine telling the series and the story without him."
None-the-less, that is exactly the way Fringe tells the story in tonight's episode "Neither Here Nor There", but don't panic yet – the season 4 premiere episode uses Peter's absence to great affect. If you think your going to miss seeing Peter on your screen this evening, don't worry – you won't. His 'presence' is perhaps best felt in his absence. Keeping track of the ways that Peter's absence changes the characters and their lives would amount to a Master's class in screenwriting. As usual, the Fringe writers find a way to build high drama out of something that could only take place in the universe of their show.
"What we would say is the show constantly tries to recontextualize your perception of the story. We introduced Walter Bishop in Season 1 and by the time you get to Season 2 you realize that in many ways he's the chief architect. Our most sympathetic character is the chief architect of all the trouble in two universes. There's a version of the narrative where he's the biggest villain of the entire piece. " Jeff Pinkner added, "So, the idea that Peter is gone, and ultimately he's not permanently gone, we've made it very clear, is an opportunity to sort of recontextualize the story of everything we've seen again, which is something that we love to play with."
One of the questions on my mind struck at the core of this whole Peter business: What about the Observers? In particular, the Observer's tendency to exhibit free will. When they were first introduced to us, The Observer's seemed just that; Observers. Watchers. Possibly alien historians. Probably agents of some cabal of higher dimensional chrono-engineers. We learned in the finale that Peter's un-being was required to patch up a transgression by September. Since we first met the Observers we've seen that they can be vulnerable, and are even capable of falling in love. Could it be that the free will displayed by the Observers will have an even larger impact in season 4? JH Wyman answered "… the notion of fate versus free will, if you try to run away from fate is that going to lead you right to fate's door itself. The whole … story is something that we're constantly interested in. And yes, the observers are sort of a Greek chorus to that notion and also themselves meant to observe, but sometimes interfere with fate. So, absolutely, it's a theme and a story that we will continue."
As a LOST fan, and I'm sure a lot of Fringe fans are, I was also deeply concerned about one other possibility: would we invest emotionally in an 'alternate' Peter-less universe only to find out that once Peter returns all of that new history will cease to have any meaning? Not a chance according to Wyman "We really want to just assure that we don't have any intention of just kind of saying, 'Guess what? It was all a dream. Everything you learned is not real.'I mean that would suck and that for me and Jeff, if I saw that I'd be livid. So, that's not what we're doing."
In fact, according to Wyman, they are counting on the audience becoming invested in the Peter-less world. "What's interesting for us is like there's a paradigm shift because now it's like the audience completely understands what's happened in the last seasons of the program and they know and so does Peter. So, the fact that everybody is sort of together with him and saying, 'Oh, my gosh, I want things to go back to normal and Peter's the stranger in a strange land.' That's going to have its value and there'll be some good rooting interest there because everything you did know is still relevant and is still valuable."
Tune in to the Fringe season 4 premiere, "Neither Here Nor There" tonight at 9PM on FOX.