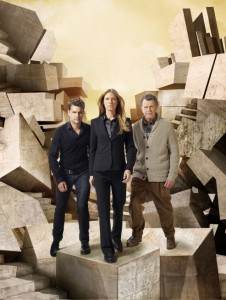 Back in October, TVOvermind visited the Vancouver set of Fringe and sat down with the actors to discuss season four. At the time of the interviews, only the first two episodes of the new season had aired, so everyone was understandably tight-lipped about what we could expect in coming episodes. Now that we're almost half-way through the season, however, we have some context for the various hints and references.
John Noble always has some fascinating insights into the characters he portrays, and this time was no exception. When asked whether we'll see Walter get back to where he was at the end of last season, Mr. Noble stated that 'somewhere down the track there will be a stabilization, because right now he's just a loon… There has to be a stabilization somewhere.'He went on to say that while he doesn't know when that might happen, as an actor, it isn't really something he wants to know; it can change his choices on how to portray Walter in the present.
Mr. Noble goes on to say that 'it's a beautiful thing that [they] get to reset [their] characters." It's constantly a challenge, as well as a fascinating mental exercise, to have to rewind the last 4 years and imagine how events would have unfolded without the addition of Peter. Walter has been taken back to when he was in St. Claire's, and definitely not a well man, except this time when he was released he didn't have the stabilizing force of his son to anchor him to reality. This new Walter is simultaneously driven and paralyzed by fear – haunted not only by the loss of his son, but also by the fact that he is responsible for the damage done to both worlds. And even though Walter can't really connect with anyone right now, John Noble has found the shift in Walter's relationship with Anna Torv's Olivia to be quite interesting. Speaking as to the new dynamic between Walter and Olivia, Ms. Torv herself notes that Olivia is now a 'surrogate child'to Walter, and that 'Walter and Olivia are closer, but they've had to be, without the buffer of Peter."
In terms of Walter's relationship with the newest Fringe Division agent Lincoln Lee, John Noble states that while they're certainly not close, Walter at least acknowledges him. When asked about whether Lincoln could be a surrogate son for Walter, Mr. Noble was quite emphatic that 'he's not Walter's son – it will never be that beautiful emotional entanglement that you got in [earlier seasons]'and goes on to speculate that he doesn't know when or if we'll see that again. One of the many reasons that I hope to see at least elements of the original timeline restored is because I find myself missing that very dynamic: along with Olivia's complicated relationship with both Bishops, Peter and Walter's bond was part of the heart of the show.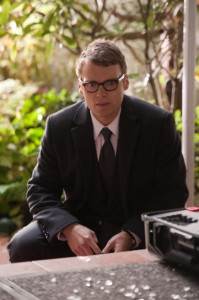 Seth Gabel, who plays Lincoln Lee and was added as a full-time cast member this season, says that the moment he feels that Walter accepted Lincoln was when Walter got his name wrong and called him 'Kennedy'. He goes on to add that even though Lincoln obviously isn't Walter's son he might just be the 'perfect placeholder and possibly bridge for Walter ultimately being able to accept this Peter that's come back into his life'. One thing I found particularly interesting in Mr. Gabel's interview was that he has some of the same questions as I do about this new timeline, particularly regarding Olivia's time spent Over There: the question still remains as to how that entire story arc would have played out given that there was no Peter to cause them to cross over, and Olivia herself doesn't seem to be aware of any of her Cortexiphan-induced abilities. It's been implied that Walternate kidnapped Olivia, but it still remains a subject of debate.
In terms of Lincoln's dynamic with a newly-returned Peter, Mr. Gabel tries, unsuccessfully, to avoid the term 'bromance', and notes that they seem to work well together. We saw them play off each other in the Fringe episode 'And Those We Left Behind'; for anyone who's a fan of their dynamic, I will say that there's a lot more of it in this week's new episode 'Back To Where You've Never Been', which was the episode that was being filmed during the set visit in October.
During the set visit it was readily apparent that at least part of the episode takes place on the Other Side, which we haven't really seen much of this season, aside from 'One Night In October'. On the subject of Walternate, John Noble states that the reason we haven't really seen what Walter's alternate has been up to is that there hasn't really been a reason for it. There have certainly been hints as to nefarious plans by Walternate, but we'll see what he has been up to in this week's new episode. Something I've loved about Fringe since they gave us our first glimpses of an alternate universe is how they've fleshed out the alternate versions of the characters. Mr. Noble says that he 'never wanted [Walternate] to be evil… I always wanted him to be a human being with a big responsibility." Personally, I think that they've done that (although killing Olivia was a step too far, for me). One of the most intriguing contrasts between Walternate and Walter was the alternate's refusal to experiment on children, which the lovable Walter has done without compunction.
Mr. Noble also addressed one of my biggest questions in this new timeline with regards to Walternate: how have Walternate and Elizabeth recovered from the loss of their son? Previously, Walternate could have at least been reassured with the fact that Peter was stolen from them, yet was saved in the process. In this new timeline, he has no such reassurances. Mr. Noble muses that 'last time [the loss of his son] really drove him through into that state; what happens now? Is he still the same?'This Friday we'll finally start to get answers to those questions.
Use the arrows above to browse through a few photos from the Fringe set. And make sure you tune in to Fringe on Friday, January 13 at 9:00 p.m. ET on Fox to watch the all new episode 'Back To Where You've Never Been'— I promise you won't be disappointed!