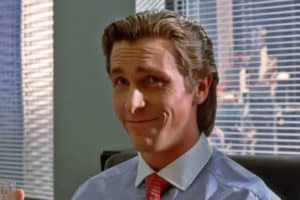 In what may very well be oddest TV story I have ever written about, as reported by Entertainment Weekly, American Psycho is set to become an FX show. You do remember the Christian Bale movie, American Psycho, right? About the guy who was a huge Huey Lewis fan, and, well, a psycho, among other things? Well, it gets weirder. Not only will this be a show based on the Patrick Bateman character from that film, but will focus on him in his 50′s.
Yes, you read that correctly.
And it gets even WEIRDER yet again.
Instead of focusing solely on him, the show will focus on him training a new apprentice. Oh, come on! Half the fun of that book and film is that idea that Bateman MIGHT just be crazy, driven by need to succeed in a money-driven world (the 80′s), and the idea that some people are convinced that everything in those movies is a hallucination or a fantasy, so how can he train an apprentice if there was ever potential that none of the stuff actually happened?
And didn't this great film and book already get ruined by an AWFUL sequel starring Mila Kunis (short answer? Yes, yes it did) so this just seems like a desperate idea to cash in on a popular character, and in the same breath, take away anything that made that character interesting in the first place.
But with all the serial killer shows becoming so big in the last few years, I guess it was just a matter of time before they tapped into one of the big names, but still, I would be lying if I were to say this seemed like a good idea.
But I would also be lying if I were to say I won't tune in, atleast once, to see what odd or interesting direction they choose to go with this.