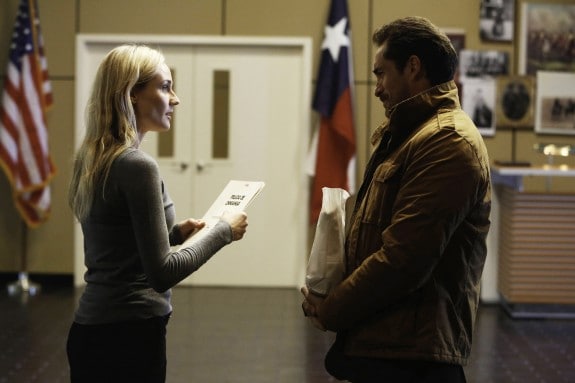 FX has given the go-ahead to its next scripted drama mere weeks after the debut of its latest drama. The cable network announced an official picked up of The Bridge for a 13-episode first season, set to begin production in April for a July premiere. The show will be the first FX drama to air in the summer since Rescue Me wrapped up a seven season run in 2011.
Starring Oscar nominee Demian Bichir and Diane Kruger, The Bridge is based on Bron, a critically acclaimed Danish/Swedish series only a season old itself. Whereas Bron was set on the border between Sweden and Denmark, The Bridge will take place on the Texas/Mexico border, with a United States detective and a Mexican detective having to work together to solve a murder. A body was left exactly on the border between the two nations, one half in the United States and one half in Mexico, and the detectives must pool their resources to catch the killer and keep their respective nations safe. Can the two, who are diametrically opposed in personality and disposition, put aside their differences for the safety of the populations to which they serve?
In addition to Bichir and Kruger, The Bridge stars Ted Levine, Annabeth Gish, Catalina Sandino Moreno, and Thomas M. Wright.
FX's most recent drama, The Americans, premiered in late January to strong L+SD numbers (and even stronger reviews) before suffering a fairly steep second week drop. However, the show performed well in the L+7 ratings and is still very much in renewal territory, its second week performance nearly equaling that of network stalwart Justified.
Will you be watching The Bridge this summer? If you've seen Bron, how do you think The Bridge will do in adapting what made it special? What type of drama series would you like to see FX tackle next?