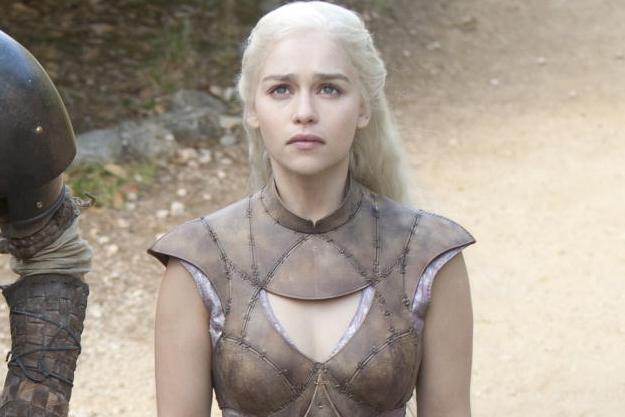 This week's Game of Thrones season 2 finale wrapped up a few storylines, but spent most of the time setting up arcs for season 3. Robb decided to turn his back on his arranged marriage and wed a woman of his choosing. Joffrey cast off Sansa as his betrothed and decided to bind himself to Margaery Tyrell after her family worked with Tywin to save King's Landing from Stannis' attack. Beyond the Wall, Jon gained the respect of the wildlings and will be taken to their king. And Arya set off with her friends to find her mother and brother.
Daenerys ended last season emerging from a ring of fire, naked and with live dragons on her shoulders. In this season's finale, she emerged from the House of Undying, dragons once again safe. The mysterious house presented her with many things she wanted (including a throne and her deceased husband and child), but in the end Dany chose to regain her dragons and set off to conquer Westeros in her own way. "For most of the season [Dany] has been looking for help from others," David Benioff explains, "By the end of the season she realizes that she has to do it herself. She's got to help herself. She can't ask others to give her power, she's got to take it. Daenerys Targaryen is not in a position where she can inherit the Iron Throne. The only way she's going to take the Iron Throne, and to take back the Seven Kingdoms, is to take them."
Dany may have been learning an important lesson in how to conquer over in Qarth, but in King's Landing, Tyrion learned a far harsher lesson of betrayal. Despite successfully engineering the defeat of Stannis' troops at Blackwater Bay, Tyrion will receive no rewards. He's been removed from the position of the Hand of the King, replaced by his father. His own sister tried to have him killed. And he seems to be back in the position of the lowest-rated Lannister in the kingdom.
Meanwhile, beyond the Wall, the White Walkers have emerged with an army. And the threat of their presence is very real. "It's going to make very, very clear to people exactly what the people of Westeros – all the people of Westeros – are facing once the winter comes," D. B. Weiss warned.
Executive producers David Benioff and D.B. Weiss discuss the season finale of Game of Thrones in the featurette below. Watch it to get their behind the scenes take on the episode.