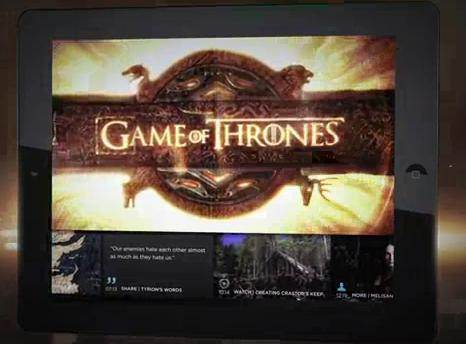 The season premiere of Game of Thrones is quickly approaching and HBO has announced that it plans to give fans a truly interactive experience on its HBO GO iPad app.
The Game of Thrones interactive elements on HBO GO allow viewers to engage with original features created exclusively for the service, by watching full-length episodes of the series alongside an 'alert feed'showing never-before-seen bonus content. Previously available only online at HBOGO.com, the interactive viewing experience will become available on the HBO GO iPad app beginning with the season 2 premiere episode of Game of Thrones, featuring special enhancements designed exclusively for the iPad.
To access this special content, turn your iPad to landscape mode. With a few taps to the screen, the "alert feed" will appear below the episode, announcing the special features during the relevant times of the episode. When you access these special features, your episode is automatically paused until you close the features and return to watching.
Interactive features in the alert feed includes:
-Cast/crew commentaries with David Benioff, D.B. Weiss, George R.R. Martin, and more
-Behind the scenes interviews with the cast and crew
-Descriptions of new characters as they come into a scene
-Info alerts providing back stories on specific scenes and character relationships
-Detailed set photos and concept art from the series design team
-Quotes from series that can be shared through social media
-A map with key locations pinpointed
-A guide to Game of Thrones houses
Some interactive features are only available for the iPad app, including the ability to post status updates to Facebook and Twitter directly while watching.
For more information on these new features, watch the video below. Don't miss the season 2 premiere of Game of Thrones on Sunday, April 1 at 9:00 p.m. ET/PT on HBO.