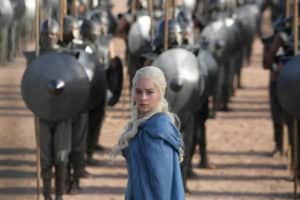 The first official Game of Thrones season 3 trailer with footage from the upcoming season premiered tonight on Jimmy Kimmel Live.
Showrunners David Benioff and D.B. Weiss have been waiting to tackle George R.R. Martin's third book in the series – A Storm of Swords – since the show began, as it's considered to be one of the best among the series.  And, thanks to its massive lengths, it's likely that the novel will be split into two seasons.  Not only that, but HBO has supersized the season, adding a few extra minutes to each of the ten episodes, giving fans nearly an additional episode's worth of scenes spread out over season 3.
David Benioff explains that "This is the 'rise and fall' season because there's so many characters who come into the season with power of some kind who lose everything, and other characters who enter with almost nothing and achieve great power."  D.B. Weiss says "There are a lot of tremendous new characters coming forward and we're very excited about the way that that new blood shakes up the picture for the people we've already come to know and love."  "The stakes get even higher," says actress Natalie Dormer (Margaery Tyrell) "And loyalties start to be torn apart.  The strength of this show is that nothing is ever completely sacred."
Watch the preview below.  The third season of Game of Thrones premieres on March 31 at 9:00 p.m. ET/PT on HBO.