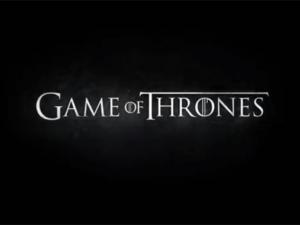 Fans of Game of Thrones are about to get their first legitimate look at the action of season three as HBO prepares to premiere the first official trail .. TOMORROW.  The announcement came late this afternoon that HBO has chosen Jimmy Kimmel to be their emissary when it comes to delivering the Game of Thrones goodness to the public eye.  The season 3 trailer will air during tomorrow's broadcast of Jimmy Kimmel Live! at 11:35pm/10:35pm CT on ABC.
Kimmel, who is a self professed fan of Game of Thrones said "I am so excited about this trailer, even I might watch my show."  We'll be there with you Jimmy!
New York, N.Y., February 21, 2013 – The Season 3 trailer of HBO's Game of Thrones makes its exclusive world premiere on Jimmy Kimmel Live! (ABC) on Friday, February 22nd.  A big fan of the series, Kimmel kicks off the countdown to the new season premiere on Sunday, March 31 at 9:00 p.m. ET/PT, exclusively on HBO, with the all-new 60-second trailer that will offer a first look at the action and treachery that continues in the visually stunning series that has become a pop culture phenomenon.

The trailer will be posted to the Game of Thrones YouTube channel immediately following its east coast debut on Jimmy Kimmel Live!.  http://www.youtube.com/gameofthrones.

Based on the popular book series "A Song of Ice and Fire," by George R.R. Martin, the Emmy®- and Golden Globe®-winning fantasy series Games of Thrones chronicles an epic struggle for power set in a vast and violent fantasy kingdom.  Beginning on March 31st, Games of Thrones will air on HBO on Sunday nights at 9:00p.m. ET/PT.