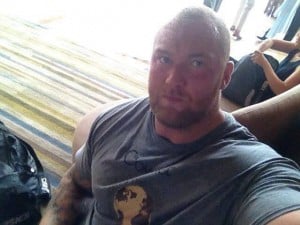 We can all say Game of Thrones casting is magical, with nary a problem in site. And for the most part, we would be right. From Tyrion to Sansa, casting of the show is pitch perfect. But but now, in some casting news, Game of Thrones has found a suitable new actor play The Mountain, after some problems have arisen for other actors trying to play him thus far. His name is Hafþór Júlíus Björnsson, and he looks pretty much like a mountain, based on his size. The guy is massive, and it is hard not to imagine finding him physically intimidating, which works really well to only the further the feelings they already get from him, seeing as to how his character is referred to as a mountain.
In other words, they got a mountain to play The Mountain, Gregor Cleganes. And seeing the problems they had with the past two actors cast to play him, they have their fingers crossed that they FINALLY found the right guy for that name. To put it in perspective, Hafbor won the third strongest man in the Universe last year, so this guy really is a powerhouse, which will work incredibly well considering what is expected out of the casting.
And don't forget, they had two other The Mountains before this one. First there was Conan Stevens, who backed out because of some "scheduling problems", and then Ian Whyte left because he claimed he could not relate to the character. So now we have Hafbor, and judging from the looks of things, we may finally have our REAL The Mountain here. A character as known for being physically imposing as he is anything else.
We just hope Hafbor stays around long enough to actually meld with the cast and find his place among the many who have come and gone from Game of Thrones before him.