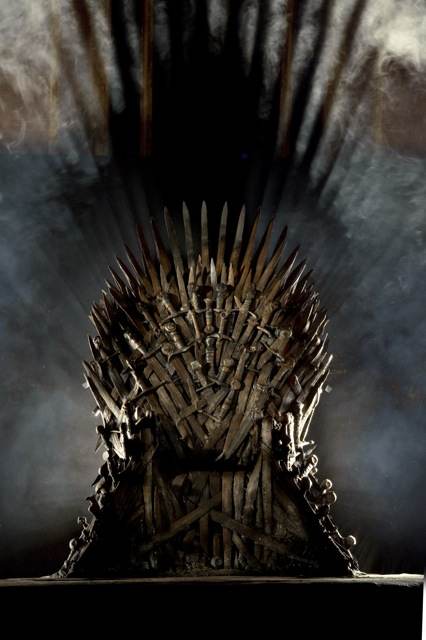 If you're a Game of Thrones fan living in London, England or the surrounding area, then we've got some good news for you. The fifth book in the series, "A Dance With Dragons", will be released on July 12 and the UK book company Waterstone's is giving fans the chance to participate in some fun activities during the book launch.
Game of Thrones fans will have a chance to purchase a £25 signed copy of "A Dance With Dragons" at Waterstone's Piccadilly location between 8:00 a.m. and 9:00 a.m. on the release date. A very limited number of signed books will be available, according to SFX, so fans should probably line up early.
A signed book is nice, but that's not all Waterstone's is offering. Fans who purchase one of the special signed copies will also have the opportunity to sit on the Iron Throne. The real Iron Throne prop from the television show. Photographs will be taken and then posted on Waterstone's Facebook page.
With the original "A Song of Fire and Ice" books climbing the bestseller lists with the introduction of Game of Thrones on HBO, it wouldn't be surprising if "A Dance With Dragons" sees some stellar sales. Waterstone's Head of Books, Toby Bourne, said "This was always going to be a huge release, but the success of Game Of Thrones on television has introduced millions more potential readers to this epic story. This is a tale on the scale of Lord Of The Rings, and we're seeing sales to match."
Game of Thrones
has been renewed for a second season and should premiere in the spring of 2012. Members of the cast and the producers will be hosting a panel at San Diego Comic-Con in a few weeks (for more details,
click here
).