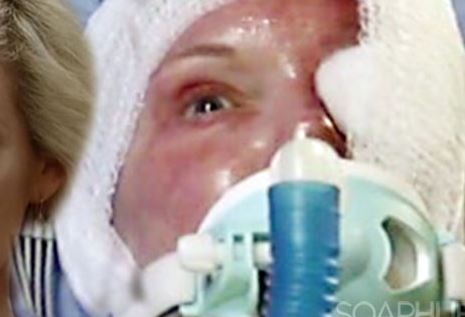 General Hospital fans know Ava is a mess. She's been a mess for months. She's been a mess ever since she agreed to change out Morgan's medication for some that didn't work. She didn't think too much of it at first but when he died, she panicked. Now she has a feeling that things aren't going well for her. She was finally caught by Sonny and Carly, threatened, and she set the boat house on fire to keep them away from her. Unfortunately, her fire caused her to spend some time burning and she was in the hospital for some time.
She's not nearly as pretty as she once was. Her face is a mess, and there is really nothing she can do about it at this point. She's made a huge mess of her life, and she's expecting someone else to take care of that for her. She's depressed and in hiding, and she went out  for the first time this week only to realize she made little Charlotte lose her mind.
It's not good for her confidence level right now, and she's going to suffer a lot for this. She's depressed, and we have a feeling it's only going to get worse for her. She's going to need some medical help for her personality before much longer, because her depression is going to overtake her feelings before much longer. We can't wait to see how this shakes out. She's got a lot to lose, and we think she might take the easy way out.