What a week of drama on this past week's daytime soaps. Revenge, justice, redemption are all core themes of dramas. They also fuel the feuds which last decades on these shows. Very few people were in a forgiving mood this week, but General Hospital's Griffin Munro had a unique perspective on the necessity of forgiveness. Let's keep his words in mind as we look back at the week and look ahead at what can be learned for the characters of The Bold and the Beautiful, Days of Our Lives, General Hospital, and The Young and the Restless.
The Bold and the Beautiful
Naming Caroline's baby Douglas is a very appropriate way to honor his great-grandmother. I will continue to call him Caroline's baby because the minute we all start thinking of Ridge as the father it's all going to blow up in everyone's face. The way this baby was conceived was not alright, but unfortunately it's not uncommon either. Ridge thinking he can keep this secret is one thing, but thinking that it's right proves how little regard he has for Thomas, who truly is trying to change for the better. It's as if they believe that they can change actual biological facts by sheer will. Ridge's doctor reappeared as a huge reminder that you can't. Not to mention, Thomas is already forming a strong bond with his son.
Sasha is an absolutely despicable child. She deserves the title of child because she is acting like one. She is completely justified in her anger towards Julius, but taking it out on Nicole is cruel. Zende needs to wake up and see that Sasha is filled with thoughts of anger and revenge.
Charlie will be a hero when he finds Liam. It's actually perfect for Charlie to be the one to follow through on this since he is the one person who isn't personally attached to Liam and his moods. Charlie is just a man who believes in the honest truth.
Performer of the Week: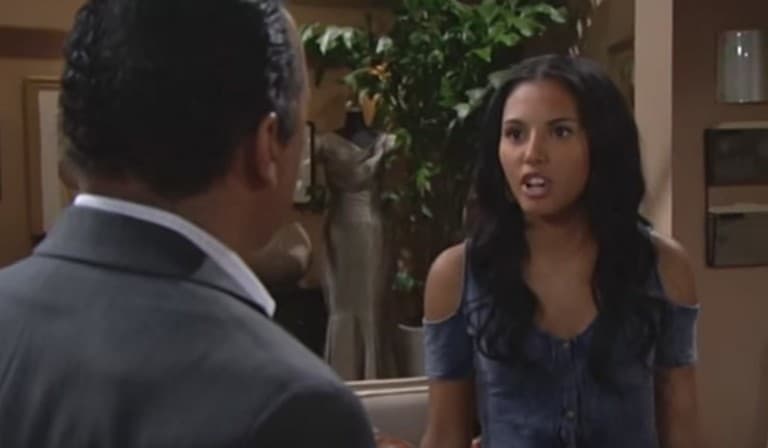 Say you want about Sasha, but Felisha Cooper's performance as Sasha confronted her father was great. Sasha's justifications and accusations were not always strong, but the pain behind her argument was real. She does have a right to feel hurt, and it seems we've only seen the tip of that iceberg.
Days of Our Lives
Ciara still has a long way to go before she's fully healed. Drowning your pain in parties and alcohol is a long, sorry road that never ends well. Luckily Theo had the foresight to call Hope before things got too out of hand. This kid is so intuitive, he knows exactly the right thing to say and is such a good judge of what people are feeling and needing. Lexie would be very proud.
Thank goodness Roman had the good sense to not take Joey's confession into public record. Between this secret and Hope's secret, Roman must be getting a migraine from having to protect his family so often. Roman needs a love interest, someone to ease his stress levels at least. Perhaps Chad's plan to trap Ben will provide an immediate distraction.
Maggie has to come to terms with learning that the baby she thought she lost when she was a teenager is alive and well. That would be overwhelming to anyone, least of all someone is unknowingly being denied her medication.
Yo Ling's reign of terror finally came to an end. He was so extreme even his own organization exiled him and crumbled in on itself. Yo Ling was a coward till the end, taking the easy way out. He didn't leave this Earth without leaving one final parting gift though, a brainwashed Paul.
After years of asking to see the Hernandez family together, fans finally got their wish. Eduardo has been in Salem for awhile trying to make amends with his children, but his past caught up to his entire family, including ex-wife Adrianna who ended up being one of Yo Ling's prisoners. However this was not a happy family reunion where everyone laughs around a barbecue. As soon as Adrianna saw Eduardo and learned the truth about who he was and why he left their family all those years ago, she wanted him gone once more. Something tells me Gabi is going to have something to say about this.
Performer of the Week: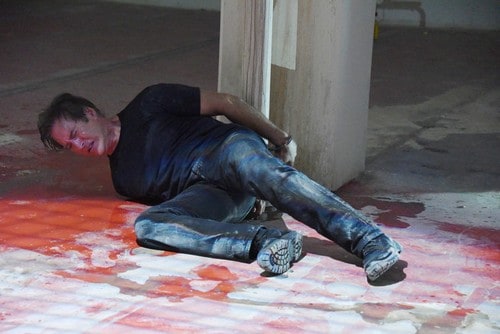 I thought Drake Hogestyn's best work was last week, but boy was I wrong. He gets this prize two weeks in a row for not only the emotional power of his performance, but the remarkable physical aspect as well. Hogestyn made a show of incredible physical strength and struggle as John broke free from his captivity and rescued his son. His last goodbye to his father could have been hateful, and it would have been justified. Instead it was a fitting display of somber closure.
General Hospital
Olivia's suit against the mayor was a thing of beauty. Some people may think issues like this are frivolous, but Alexis made a very compelling argument. There are no rules in place to enforce the public breastfeeding law should a mother be made to feel ashamed, but her physical space not violated. Lomax really messed with the wrong women. Between Alexis's defense, Diane's weak case (which she was perfectly fine with), Olivia's gumption and Carly's ferocity, the Mayor didn't stand a chance of winning.
Kristina has always been under intense pressure to please her parents, but under these circumstances it is understandable that she is hesitant to be honest with them. Telling your parents you think you might be gay is incredibly intimidating under the best of circumstances. The fact that Kristina is thinking this as a result of hitting on her professor definitely does not make this the greatest of circumstances. However an argument could definitely be made that Parker is the authority figure in the situation, so she should know better than to play with Kristina's emotions.
Griffin probably wasn't counting on learning about his father's life to be so complicated. Duke was a great man, yet the way he lived his life was always on the edge, and it got him killed. The reverberations of his death are still being felt by his friends and enemies alike. Griffin is only just getting to know the players in the game, but his opinion on this matter is probably the one which matters the most. Duke loved a life of danger, but he had a kind soul, which he clearly passed onto his son. Griffin can see that everyone is still in a lot of pain, so forgiveness does seem like the most logical step to finally healing. It would certainly be a new concept for all the mobsters in town.
After months and months of running from his crimes, Nikolas is finally meeting his match. The walls have finally closed in on Hayden. Her identity has been revealed as Rachel Barnes, the daughter of a Wall Street big-wig who swindled his clients out of millions. It seems like Nikolas will kick his wife to the curb after all of her lies, but Hayden's no dummy. Helena must have known that the only person who could have defeated her would be Nikolas, which is why she left Nikolas that painting in her will as her version of a Tell-Tale Heart. With the ammunition Hayden has on Nikolas, it doesn't seem like the Prince is going to get his way on this one.
Welcome Back to the GH family Michael Easton! Yes, Silas Clay's run sadly had to end, as did John McBain's before that, but it's a testament to Easton's talent that he keeps being asked to return. This time around he is again playing a doctor, a specialist in infectious diseases named Dr. Hamilton Finn. He even brought a lizard with him!
Performer of the Week:
Matt Cohen has been a breath of fresh air since the moment he stepped onto the General Hospital stage. He's been a calming presence who has great chemistry with almost every character. His scenes with Anna and Sonny this week were beautiful. Anna and Sonny are such strong, central characters. It's a rare person who can speak on a level field with such strong-willed people, let alone for their words to actually penetrate when Anna and Sonny's views have already been so clearly engrained. Those conversations were a rare display of honesty and integrity which I hope we can look forward to more of.
The Young and the Restless
It's been looking for awhile now like Billy and Phyllis's growing friendship could turn into something more, and unfortunately that sickening thought became a reality. Being on good terms with your in-laws is great, but there is a line, and unfortunately it's one that Billy has crossed before.
Anyone else getting really sick of Hilary? Was she always this horrible or did Dr. Neville's miracle cure scramble her brain? Her attitude towards Ashley is not only sickening, but now it is bordering on obsessive. Who tries to one-up a terminally ill woman? Devon needs to stop looking confused and put his foot down on his wife's atrocious behavior towards his friends.
Another character who is becoming very grating is Summer. She was naïve to think that standing by her grandfather wouldn't have a devastating effect on her relationship with her mother. She's also being sucked into Luca's orbit, which is a dangerous place to be when Luca's only allegiance is to himself.
Sage wants Shawn's baby so badly it is bordering on obsessive. While Sage should be paying more attention to the outside world, Sharon needs to be looking inward more. Sharon's dreams are trying to tell her that something is very wrong. Sharon not wanting to think more about this is understandable, but Paul is blocking Dylan's instincts with his insistence that things happened the way they appeared to happen. In Paul's mind, Patti murdered Dr. Anderson, and all of the doctor's manipulations don't matter anymore.
Michael is determined to go through with Phyllis's plan to throw Victor's case. Lauren has faith in her husband, but Jack is once again not happy when he finds out what Phyllis has done. Luca ratting out Victor to Michael is what should worry the double-crossing attorney. Nonetheless, what's done is done, and so the trial of the Victor Newman begins. All of the Newmans are nervous about publicly turning against Victor, but Adam is the real wild card. For years Adam's desire for his father's approval has won out time and again over everything else in his life. Victor counts on that need to win out so that he gets what he wants, Adam in and Victoria out. With Chelsea, and surprisingly his family, by his side, Adam rejects Victor's deal. It really looks like Victor is done for. He figures out that Michael is working against him, publicly fires him, and kicks him to the curb to represent himself. It would figure, since the only one who thinks what Victor did was defensible is Victor.
Performer of the Week: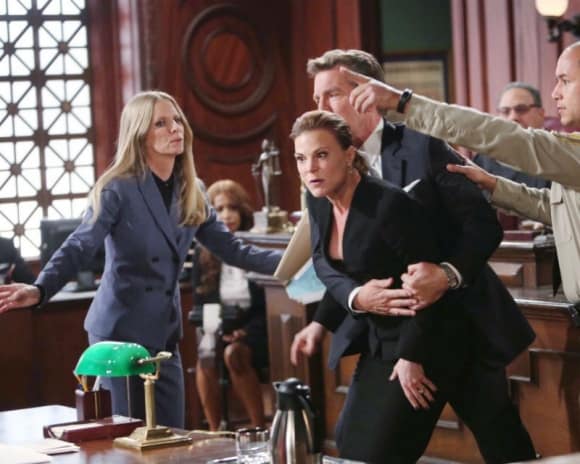 Gina Tognoni on the stand for Victor Newman's trial was as raw as it gets. Phyllis started out calm, then had to force herself to be as vulnerable and exposed as she's ever been. Remembering that someone had that kind of power over her threw Phyllis into a fit of rage. I've said it before, I'll say it again, Tognoni is nothing short of brilliant.
So the question is, who is really capable of forgiving?