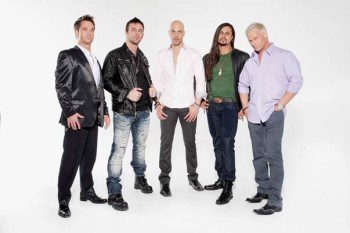 Showtime has revealed that the fourth season of unscripted series Gigolos is set to premiere Thursday, April 18th at 11:00. The 10-episode season will feature a new cast member in Bradley, a former marine who describes himself as a "cougar magnet," who will replace Steven. Last season found Ash replacing Jimmy following legal trouble; he'll be back for season four, as will Brace, Nick, and Vin.
The network also released a first look teaser for the season, which hints at the ramped up action and always unpredictable clients that we'll be seeing. While there are the hot tub encounters and role-playing costumes that you expect from Gigolos, most interestingly, there's a former adult film star who, after seeing Brace regularly for a while, wants to make things official. Most of the Gigolos tend to shy away from the idea of commitment and relationships, but Brace has made it obvious that he doesn't want to be an escort for the rest of his life and has already branched off into other avenues. Could she be the one to finally tame Brace and help him ease out of the industry? Or is she going to drive him away with talk of dating and a personal relationship away from their appointments?
Last season on Gigolos, Nick thought about going into the adult film industry, while Steven battled his nicotine addiction with the influence of a bet from Brace and Vin discussed developing a software to ensure the safety of escorts. Clients ranged from a lesbian who hadn't been with a man in years to a professional fire dancer to a voyeuristic couple on their anniversary.
You can check out the rest of Showtime's 2013 premiere dates here, as well as when improvisational comedy Web Therapy will be returning here.
Will you be watching Gigolos this season? How will the show be without Steven? Of the clients presented in the teaser, which do you think will be the most interesting?