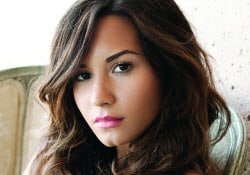 Glee marches on despite the death of its lead, and now we're learning new information about upcoming characters for season five. The latest announcement is that Demi Lovato will be joining the cast for a significant arc of at least six episodes.
According to TVLine: "Lovato (who turns 21 on Tuesday) will play Dani, a NYC-based struggling artist friend of Rachel and Santana's. She will also interact frequently with Adam Lambert's incoming character, and the pair will have several musical numbers together."
Lovato rose to Disney fame starring in Camp Rock, but has since been on the charts as a solo artist and a judge on the X-Factor. Acting has taken a backseat, but now it appears she wants to get back into the game. Her and Lambert should certainly make for quite a pair.
Glee returns September 26th at 9 EST, and Lovato should start to show up in episode two, which will be part two of the show's Beatles tribute. Of course Fox will be cross promoting the hell out of Glee and the X-Factor because of her involvement, especially since the X-Factor results show leads directly into Glee on Thursdays.