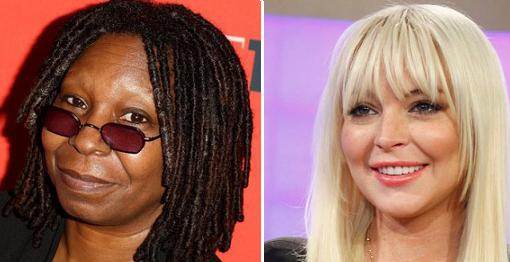 Two pieces of casting news was announced for Glee today. The first concerns Whoopi Goldberg. According to TVLine, Whoopi has been cast for a multi-episode arc later this season. She'll play Carmen Tibideaux, a professor at New York Academy of the Dramatic Arts (NYADA) who travels to McKinley High to audition Kurt and Rachel for the school. She'll be appearing in three episodes beginning on May 1. Her role is sure to be part of an important story that will decide Kurt and Rachel's location for next season.
TVLine is also reporting that Lindsay Lohan is in final negotiations to appear in an upcoming episode of Glee as herself. Apparently she's being tapped to play a celebrity judge at Nationals, much like Olivia Newton John and Josh Groban have done on the show.
Glee is set to return from its winter hiatus on April 10 and will end its third season on May 22. When the show returns in two weeks, Matt Bomer will be appearing as Blaine's older brother, Cooper, who also happens to be a big-shot Hollywood actor.