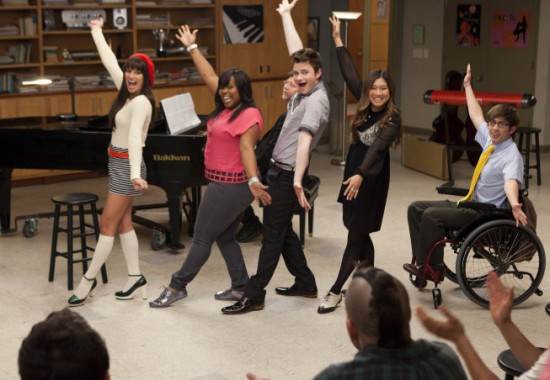 Distance can be a deal breaker for a young relationship. The feelings you have may be strong and passionate, but that may not be enough to keep you from growing apart. When Glee returns for its fourth season in the fall, Rachel and Finn will be dealing with this very issue, her successful NYADA audition sending the Ohio girl to the big city while her boyfriend enlisted in the army. They've dealt with a lot of drama in the first three seasons of Glee, so they can make it through the (physical) separation…right?
It won't be easy, as Glee will be bringing on a potential love interest for Ms. Berry that'll test the strength of her relationship with Finn. Dean Geyer will be playing Brody Weston, an upperclassmen at NYADA that takes an interest in the pretty freshman. Rachel may love Finn deeply, but once she gets a dose of life experience in the city and meets people that she has more in common with, to go along with the miles between them, that love might not be enough.
Elsewhere on Glee, Jacob Artist joins the cast as Jake Puckerman, Puck's rebellious little brother that tries out for the glee club. With so many of the original club graduating and moving on to other endeavors, it'll feel a little empty in the McKinley High music room, so this is the first step toward repopulating the club and moving Glee toward the future. From the sound of it, Jake will provide the same function that Puck did – a rebel that, at first, rejects the idea of being in a glee club before getting close to its members and embracing the experience.
The fourth season of Glee premieres Thursday, September 13th at 9:00. You can check out the rest of Fox's fall premiere dates here.
Will you be watching the next season of Glee? Do you think Finn and Rachel will stay together, regardless of the distance and outside influences? Would you like to see Puck's brother in the glee club?