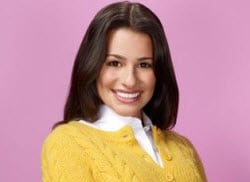 Cory Monteith's death shook Glee hard. So hard that it almost killed the show entirely. Since then, however, they've had a chance to gather themselves and think about what happens next for the program. As of now, they're planning on writing Finn out of the show in episode three, with actor appeals directly to the camera about getting help if you have an addiction.
But now, they have to think about what happens after that. The show has been greenlit for seasons five and six, but it may not live past that, according to Fox president Kevin Reilly:
"Never say never, but… there's two very clear arcs to get to that end and conclude [the series]," Reilly told reporters when asked about the future of Glee at the Television Critics Association summer press tour in Beverly Hills. "If we discover a new crop of kids and there's some breakout, who knows. But right now, we're thinking about two seasons."
I have a hunch that the whole "kids singing covers of things" musical trend is starting to fade away, so I wouldn't imagine that Glee will suddenly discover an entirely new group of kids and live on indefinitely as they keep recycling high schoolers.
I think six seasons is a perfectly acceptable run for a show, and few have had to do it losing their main star in the process. I hope the next two seasons go well for them, and they're able to finish strong.