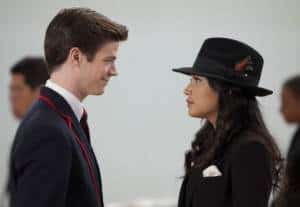 Glee returns this week with an all new episode, but a rerun will be airing on January 24 due to the State of the Union address. But when Glee returns again on January 31, it will do so with the Michael Jackson tribute episode.
Mr. Schue will be encouraging the kids to do a Michael Jackson assignment in that episode, which will inspire a multitude of performances. We know that Grant Gustin's evil Sebastian Smythe will be making a return appearance and will perform as well. While it will be the glee club against Sebastian, we've heard that Emma and Sue won't be appearing.
According to TV Guide, this is supposedly the song list:
1. Wanna Be Startin' Somethin' – Blaine and group
2. Rock with You – Sebastian & Warblers
3. Bad – Artie, Santana, Blaine, Sebastian
4. Scream – Artie and Mike
5. Never Can Say Goodbye – Quinn
6. Human Nature/ Nature Boy – mash-up of MJ and Nat King Cole – Mercedes & Sam
7. Smooth Criminal – Santana & Sebastian (with special appearance performance by 2Cellos)
8. Ben – Finn, Rachel & Kurt
9. I Just Can't Stop Loving You – Finn & Rachel
10. Black or White – Artie, Rachel, Kurt, Mercedes, Santana and the group
You can bet that Mike Chang and his dancing abilities will be used to their full effect during this episode.
Updated: Watch a trailer for the Michael Jackson episode.
Want to see some photos from this sure-to-be-memorable episode? Use the arrows above to browse through the photos and don't miss this special episode of Glee on Tuesday, January 31 at 8:00 p.m. EST on Fox.