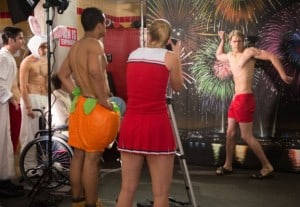 As it turns out, the synopsis for next week's Glee reveals a spoiler that I think most people actually saw coming.  We know that the January return of Glee features Sam trying to find proof that the Warblers cheated at Sectionals. I suspected that he would find the proof and the Dalton Academy glee club would be kicked out of the competition, leaving New Directions to slip back in.  In "Naked", Fox says that "the glee club puts together a calendar photo shoot to raise money as they head into Regionals."
In other words, the boys are stripping down for a calendar and it's clear that New Directions is back in the running for Regionals and – possibly – Nationals.  Meanwhile in New York, Rachel wins a part in a student art film, but the role poses a moral dilemma.  Given the episode title, we assume that the part calls for her to take off her clothes.
Use the arrows above to browse through photos for the January 31 episode of Glee on Fox.