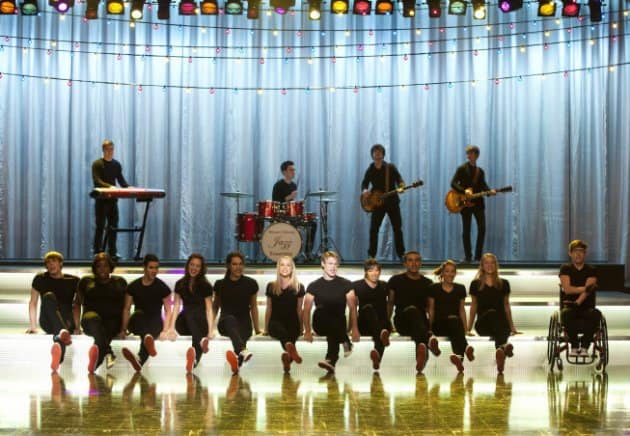 Glee is currently on hiatus for a few weeks, but when the show returns we'll be picking up shortly where we left off.  A few big things happened in the big wedding/Valentine's Day episode, including the fact that a wedding didn't actually take place because Emma chose to leave Will at the altar instead.  Back in New York, Rachel was reeling when she suspected that she might be pregnant.  But since she also recently slept with Will, who could be the father of her (potential) baby?
In the next episode, Will gives New Directions the ultimate assignment: movie songs.  From the looks of the promo we'll be seeing the glee club reenact iconic scenes from films like Footloose and Risky Business, but can Will also use the assignment to win Emma back?  In New York, Santana is making herself rather comfortable in the loft, much to Rachel and Kurt's chagrin, not to mention the fact that Rachel is clearly still reeling from the outcome of the pregnancy test.
This episode also marks the 500th musical performance on Glee: "Shout" from the film Animal House.
Click the photos below to browse through pictures for the March 7 episode of Glee.  Note that this episode will begin at the special time of 9:30 p.m. ET/PT because a 90 minute episode of American Idol will precede it. You can also watch a preview below.
http://youtu.be/Db8ehxDYMKY