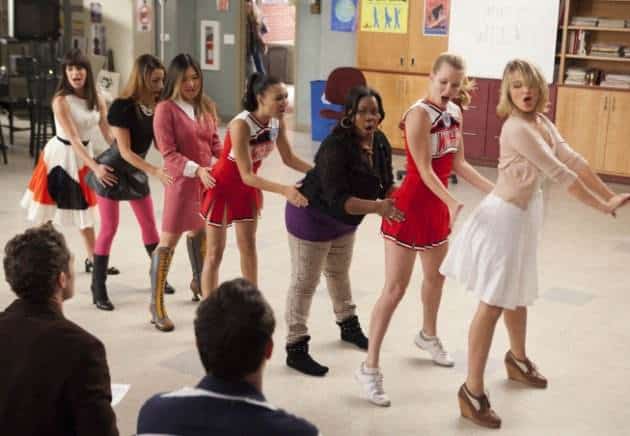 Glee is on hiatus this week, but in last week's episode the big news is that Santana was outed. After constantly insulting Finn, he finally snapped and confronted her. He suggested that she's nasty to him and other people because she's depressed about having to hide her sexuality and her love for Brittany. One of Sue and Burt's congressional competitors decided to take the reveal of Santana's lesbianism and add it to an attack ad against Sue. When she learned that the news would be broadcast on television she was devastated. Not only do her closest friends and fellow glee club members know, but now everyone will. This was particularly devastating because she hasn't told her parents that she's gay. For a more detailed recap, read Kevin's review.
The previous episode of Glee ended with a shocking slap. Santana struck Finn and it looks like she may be getting penalized for it. When Figgins wants to suspend Santana (for the slap, maybe?), Finn steps in to make sure it doesn't happen. But in exchange for his help, Finn wants Santana and the other Troubletones to join the glee club.
To help ease the sting of Santana getting out, Finn also decides to put together this week's singing challenge: songs about women sung by the ladies in the glee club. At first Santana thinks this is cheesy, but she seems to come around. We'll also learn who won the student presidential election in the episode.
Updated: Listen to the full length versions of the episode's songs
Watch two sneak peeks below for the November 29 episode of Glee.